Former executives accuse Apple of ignoring supplier labor abuses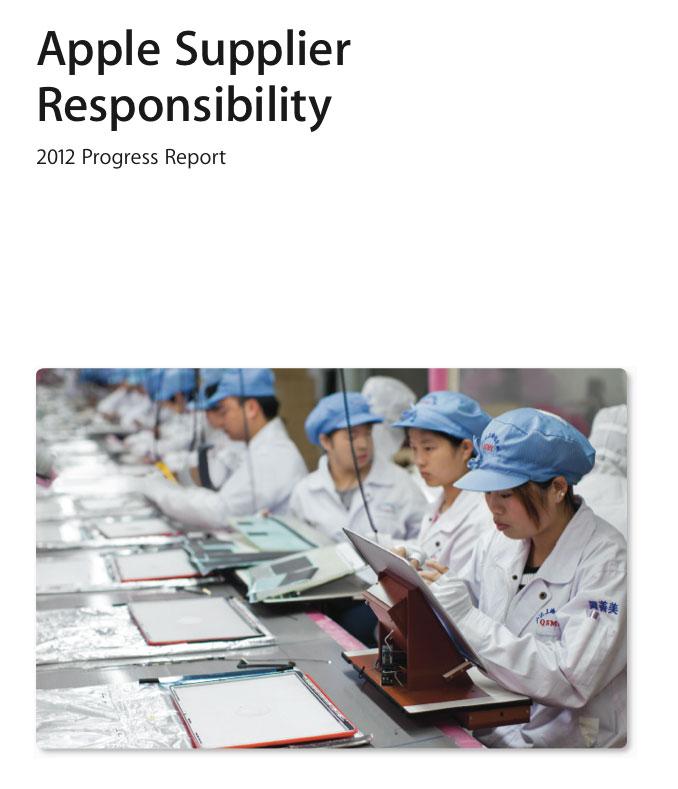 AppleInsider may earn an affiliate commission on purchases made through links on our site.
A new report quotes former Apple executives as saying that the company has known about some "labor abuses" in supplier factories for years without requiring that they be addressed.
The New York Times published on Wednesday a follow-up report to the profile on Apple's overseas manufacturing operations that appeared last week. The publication examined the "human costs" that go into the iPad and other such devices, drawing upon interviews with several dozen "current or former employees and contractors, including a half-dozen current or former executives with firsthand knowledge of Apple's supplier responsibility group."
"We've known about labor abuses in some factories for four years, and they're still going on," said a former Apple executive who spoke on condition of anonymity. "Why? Because the system works for us. Suppliers would change everything tomorrow if Apple told them they didn't have another choice."
Earlier this month, Apple released its annual supplier responsibility report, claiming that its zero-tolerance policy for underage labor is "the toughest in the electronics industry." The iPhone maker conducted 229 audits last year, an 80 percent increase from 2010, and discovered six active and 13 historical cases of underage labor at five facilities. CEO Tim Cook said in an email to employees that the supplier responsibility program has brought about "dramatic improvements in hiring practices" by Apple's suppliers.
The company announced this month that it was the first technology company to join the Fair Labor Association and had agreed to submit to independent checks by the association of supply chain facilities. Also of note, Apple for the first time released a list of its suppliers as part of its annual report.
"We continue to expand our program to reach deeper into our supply base, and this year we added more detailed and specialized audits that focus on safety and the environment," Apple's report read.
Apple claims to require suppliers to fix problems within 90 days of an audit and institute changes to prevent them from happening again. The company also says it will terminate its relationship with repeat offenders. But, multiple former executives disagreed with the company's assertions that it holds rigid standards for its partners, according to Wednesday's report.
"If you see the same pattern of problems, year after year, that means the company's ignoring the issue rather than solving it," said another former Apple executive with direct knowledge of the company's supplier responsibility group. "Noncompliance is tolerated, as long as the suppliers promise to try harder next time. If we meant business, core violations would disappear."
Li Mingqi, a former manager at Apple manufacturing partner Foxconn, has alleged that Apple didn't pay any attention to worker conditions after reaching agreements with its partner. Li, however, has gripes with Foxconn, as he is suing his former employer over the conditions of his termination last April.
"Once the deal is set and Foxconn becomes an authorized Apple supplier, Apple will no longer give any attention to worker conditions or anything that is irrelevant to its products," he said.
Foxconn denied his claims, stating that "both Foxconn and Apple take the welfare of our employees very seriously."
Interestingly enough, Li helped manage the same Chengdu factory where an explosion occurred last May. The blast, which took place at a polishing plant for the iPad 2, killed four workers and injured several others. A Hong Kong-based advocacy group had reportedly sent a warning to Apple about the dangers of aluminum dust in Chengdu just weeks before the incident.
Last December, a second explosion occurred, this time at a facility owned by a subsidiary of Pegatron. Aluminum dust was again the cause of the explosion, with roughly 60 workers injured by it.
But, Apple did say in its 2001 supplier responsibility report that the causes of the two explosions were different. According to the company's report, Apple has audited all of its suppliers engaged in polishing aluminum and now is requiring better safety measures.
Former Apple employees pointed to the company's notorious secrecy as a barrier to improving working conditions at supplier's facilities.
"We've had this conversation hundreds of times," a former executive in Apple's supplier responsibility group told the Times. "There is a genuine, companywide commitment to the code of conduct. But taking it to the next level and creating real change conflicts with secrecy and business goals, and so there's only so far we can go."
Tipsters said they were forbidden from interacting with outside groups. "There's a real culture of secrecy here that influences everything," the former executive said.
The company has taken steps in recent months to be more open with environmental and labor rights groups. In November, it was revealed that the company had met with several Chinese environmental groups to address their concerns. Apple's recent decision to release its supplier list is also a step toward them, as a number of offending suppliers that groups had accused Apple of partnering with have turned out not to work with the company.
"We're trying really hard to make things better," a source said. "But most people would still be really disturbed if they saw where their iPhone comes from."
Late Apple co-founder Steve Jobs asserted in 2010 that the Foxconn factory in Shenzhen, China was "not a sweatshop," noting that the facilities include restaurants and movie theaters in addition to the manufacturing operations, but a former Apple executive told the Times that supplier and manufacturer conditions would be disturbing to most people.
Foxconn came under scrutiny that year after a series of worker suicides. The issue recently made headlines again after plant workers at a facility producing Microsoft's Xbox 360 gaming console threatened mass suicide over a dispute with factory management.