Apple's US Samsung lawsuit expands to 8 patents and names 17 products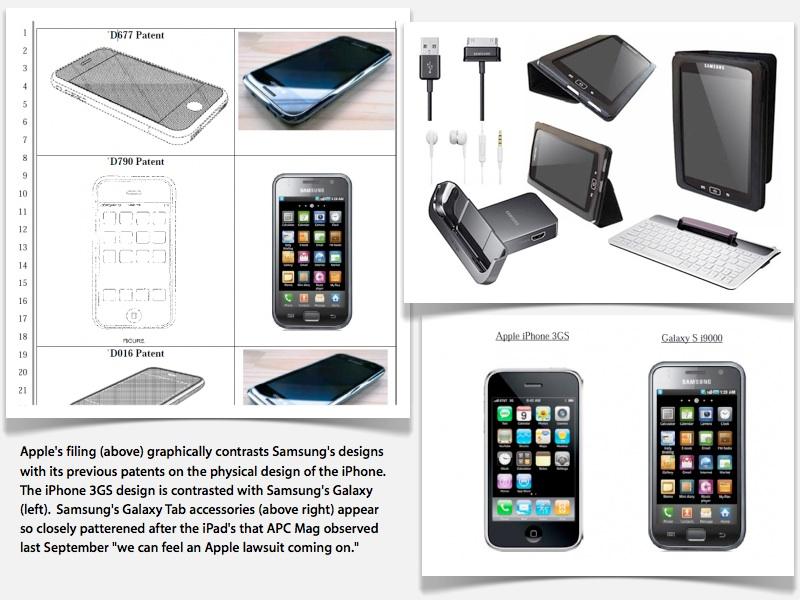 Apple's US lawsuit against Samsung in far larger than originally reported, specifically naming 13 smartphones, two media players and two tablets, and encompasses twice as many patents as were revealed in the company's parallel bid for a preliminary injunction against Samsung's Galaxy Nexus.
Apple's request for a preliminary injunction on sales of Samsung's Android 4.0 Galaxy Nexus, as reported last week, was based on four patents, two of which have been asserted previously including one that successfully awarded Apple an injunction against the US import of infringing HTC phones.
However, after reviewing Apple's full complaint against Samsung, FOSS Patents writer Florian Muller reports that, in addition to the preliminary injunction, Apple's suit also targets a total of 17 Samsung products with a total of 8 patent claims.
The four additional patents Apple is asserting in the wider lawsuit include U.S. Patent No. 6,847,959, "universal interface for retrieval of information in a computer system," which describes an invention that delivers relevant search by intelligently narrowing down results, relevant both to Spotlight search and Siri.
A second new patent, United States Patent: 8014760, named "Missed telephone call management for a portable multifunction device," was filed in 2007 alongside the release of the original iPhone. It describes an interface for presenting relevant contact information and other callback options after an incoming call is missed.
A third patent, also filed in 2007, is U.S. Patent No. 7,761,414, "Asynchronous data synchronization amongst devices," relates to software that enables users to continue working with data, such as calendar items, contacts or bookmarks, while a device is actively syncing.
The fourth additional patent, United States Patent: 5666502, "Graphical user interface using historical lists with field classes," was filed in 1995 and relates to intelligently presenting selectable items in a list after the user begins entering a selection.
Originally developed for use with Apple's Newton Message Pad, the patent also seems to relate to predictive search, leading Mueller to observe, "If Apple enforced this one successfully against Chrome, it might create serious problems for Google."
To explain why Apple is asserting four patents in its preliminary injunction but a total of eight in its overall case, Mueller writes, "for the preliminary injunction bid, Apple had to focus on patents that can succeed on the fast track, where the judge only has limited time to understand a patent and the parties' related arguments."
17 Samsung devices on trial
While Apple's preliminary injunction targeted the Galaxy Nexus, Samsung's Android 4.0 launch vehicle created in a closed partnership with Google, its broader lawsuit names 17 products, although its patent claims aren't limited only to the devices specifically named.
Apple's suit names over a dozen Samsung smartphones, including Samsung's Galaxy S II Skyrocket, Galaxy S II Epic 4G Touch, and Galaxy S II for both T-Mobile and AT&T, the Galaxy Nexus, Illusion, Captivate Glide, Exhibit II 4G, Stratosphere, Transform Ultra, Admire, Conquer 4G and Dart.
The lawsuit also lists two media players Samsung positioned against the iPod touch: the Galaxy Player 4.0 and 5.0 (the numbers relate to the devices' screen sizes, not a version number).
Also listed in the complaint are two new tablets, the Galaxy Tab 7.0 Plus and Galaxy Tab 8.9. Apple's initial lawsuit already named previous Galaxy Tab models.
Apple stepping up its legal game
Apple's latest complaint in its battle with Samsung is regarded as involving "much stronger patents" than the company's initial litigation from last year, according to RBC Capital Markets analyst Mike Abramksy.
"It's also worth noting that Apple's complaint is very concise," Mueller wrote. "Last year's complaint [portrayed in the graphic above] against Samsung had a lot of (very well-crafted) narrative on Samsung's alleged copying of Apple's products. The new complaint doesn't have to repeat much of that. It basically just explains that the alleged problem has exacerbated, and brings new claims."
Mueller added, "This lawsuit is going to be huge."