Inside OS X 10.8 Mountain Lion: Apple overhauls software updates, App Store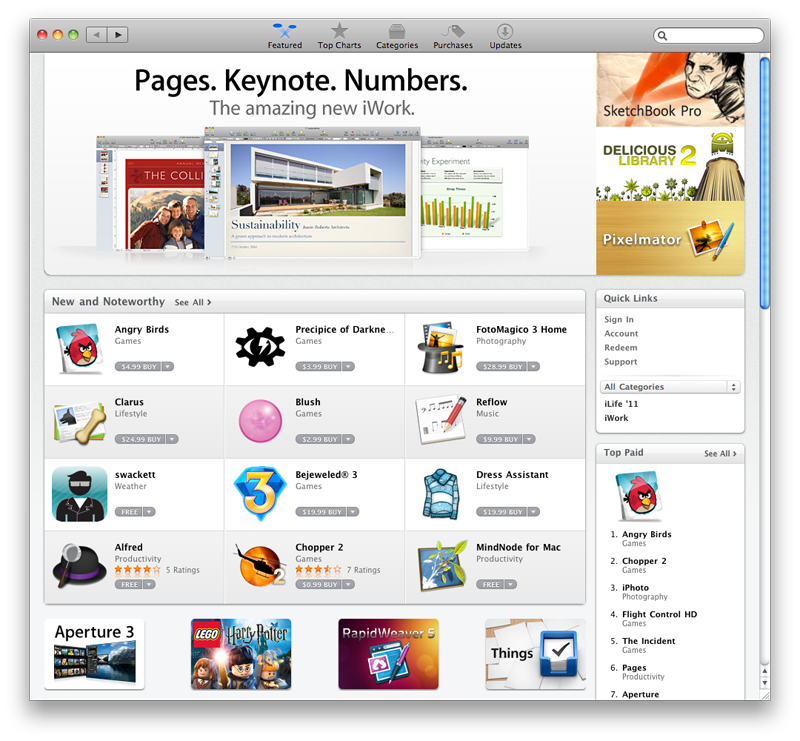 System updates are now sensibly converged with a refreshed App Store in this summer's release of OS X Mountain Lion, centralizing software updates and adding automatic app installs for all your iCloud-registered Macs.
Apple released the Mac App Store one year ago, rushing to add an iOS-like software store to the Mac desktop with such haste that it just couldn't wait until the release of OS X Lion, bundling it instead with OS X 10.6.6. Apple subsequently used the Mac App Store as the primary way to distribute Lion itself last July.
Just like releases of iTunes before it, the Mac App Store experimented with novel placement of standard window controls, adding Safari-like navigation buttons next to the horizontally centered Close/Minimize/Zoom window controls, and similarly plopping non-standard toolbar icons in what has been reserved for the window's title bar for the last 30 years.
This overt bending of the company's own Human Interface Design Guidelines appeared intended to associate the Mac App Store with its iOS counterpart, particularly with its iPad-like mode icons across the top.
There were a few odd other edges that were harder to explain, however, the first being that the Mac App Store didn't support full screen functionality (perhaps due to its need to support the older OS X Snow Leopard) and the second being its lack of integration with System Updates, the historical path for obtaining system updates, printer drivers, and other apps bundled with OS X.
The Mac App Store is now the only place users will need to visit to keep all their software up to date, at least for all their software obtained through Apple and its App Store publishers. Both "Software Update" and "App Store" items under the Apple menu of OS X Mountain Lion now direct users to the Mac App Store.
"Checking for new software," shown below, will present any machine specific updates for OS X and its bundled software, as well as any pending updates for App Store titles (the later requiring you to be logged into your App Store account; system updates don't require an account to obtain).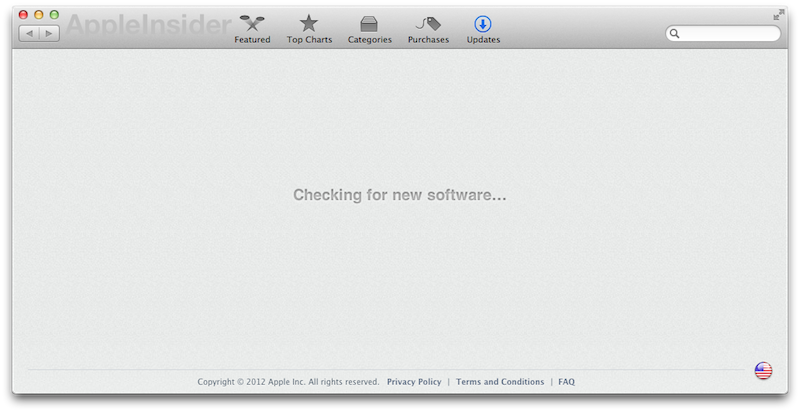 The Updates pane presents both OS X updates as well as App Store updates, and offers a simple user interface for selectively updating which items you want to install. In the prerelease build, some of the description of the updates may be hard to read, but we'd expect Apple to address this before it becomes available this summer.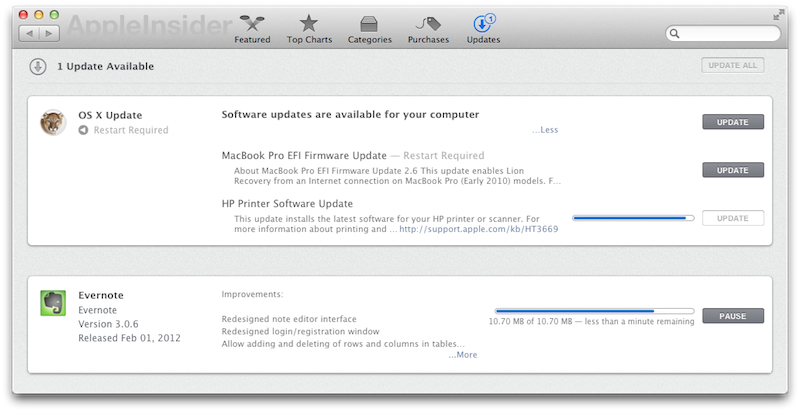 Normalized window appearance
Once finished, the App Store reports that everything that can be installed already is. The revised Mac App Store in Mountain Lion also normalizes its window presentation a bit, placing the navigation buttons under the standard placement of top left corner window controls just like Safari, as well as adding a Full Screen button to the top right corner, restoring the normal window title bar area, all apart for the centered placement of buttons, something that with the other changes doesn't seem so odd anymore. The iOS-style toolbar buttons are not configurable, but they don't really need to be.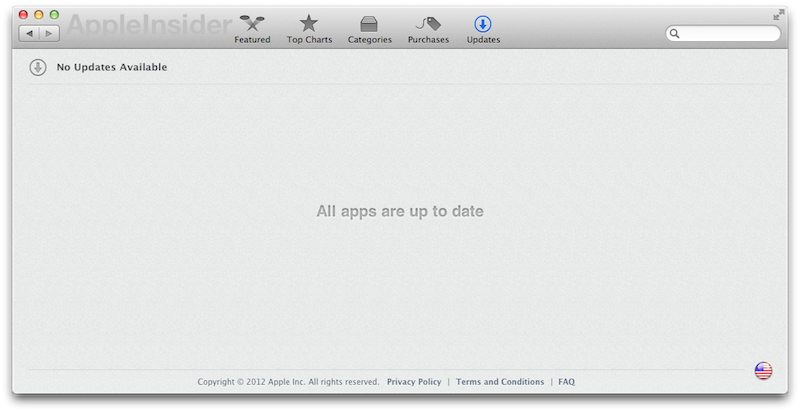 Apps in the Cloud, but where's Dashboard Widgets?
The other notable change in the Mac App Store is a new option to automatically download software you buy on another computer, the "Apps in the Cloud" feature Apple debuted for mobile devices in iOS 5. This allows you to shop for apps on one machine and have the same titles automatically download on the rest of your machines registered with the same iCloud account (for free of course).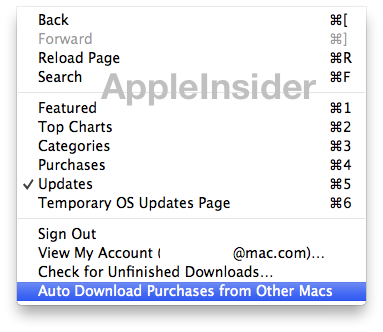 Mountain Lion's revised Mac App Store does a great job of cleaning up and normalizing the upkeep of desktop software, but there's a notable omission: Dashboard Widgets. Currently, the Mountain Lion Dashboard directs you to Apple's Dashboard web page to browse for and obtain new widgets, but it sure would make a lot more sense just to add Widgets to the App Store, perhaps even offering a market so that developers had more motivation to create valuable widgets Mac users might want to buy.
Apple could also add other elements for sale (free or paid) within the Mac App Store, including optional Fonts, Speech Voices, QuickTime components, Quartz Compositions or Safari Extensions (which currently languish in a Dashboard-style web downloads web app). With the update plumbing of the App Store already present, it makes sense for Apple to use it for everything, although app specific items (like Safari's Extensions) might make more sense to integrate as In-App purchases (even if they're free).
In the future, it might also make sense for Apple to merge other purchases from iTunes into the Mac App Store as well, undoing the link between playing and managing media in iTunes and the Store for buying music, videos, TV shows and movies, as well as for downloading Podcasts and iTunes U content. This would mirror the breakdown in iOS between the store (called iTunes) and the Music and Videos apps used for playback.
It would also be great to see Apple add the iBookstore, but as with Safari Extensions, it might make more sense to do this as an In-App market within a future iBooks 2.0 Mac app, if that ever arrives as an alternative to the iPad for reading and using textbooks and other dynamic iBook 2.0 titles.