Microsoft joins Apple in FRAND patent fight against Motorola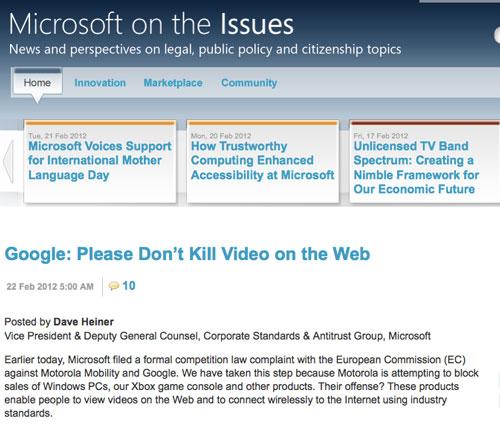 Microsoft has joined Apple in filing an antitrust suit against Motorola Mobility in the European Union for allegedly abusing its standard-essential patents.
Microsoft's formal competition complaint was filed this week and revealed by the company on Wednesday. It asserts that Motorola Mobility is attempting to illegally block sales of Windows PCs, Xbox game consoles and other products by leveraging patents that are obligated to be offered with fair, reasonable and non-discriminatory (FRAND) licensing.
"Motorola has broken its promise," said Dave Heiner, vice president and deputy general counsel for Microsoft's Corporate Standards & Antitrust Group. "Motorola is on a path to use standard essential patents to kill video on the Web, and Google as its new owner doesn't seem to be willing to change course."
Microsoft's formal suit comes only days after it was revealed that Apple has also lodged a complaint against Motorola with the European Commission. Apple's antitrust suit also asserts that Motorola is not making its standard-essential patents available under FRAND terms.
In particular, Motorola seeks to obtain 2.25 percent of Apple's sales of wireless devices, including the iPhone, in exchange for a patent license. Apple has argued that Motorola's royalty sought for a standard-essential patent is unfair, unreasonable and discriminatory.
With lawsuits from both Microsoft and Apple against Motorola, the European Commission is now increasingly likely to investigate Motorola's alleged abuses, patent expert Florian Mueller of FOSS Patents wrote on Wednesday. He said witnessing Motorola's "aggressive litigation and enforcement activities in Germany" has made him understand the reasoning behind the complaints from Apple and Microsoft.
"If every owner of standard-essential patents behaved like Motorola, this industry would be in chaos, and grind to a halt," he wrote. "Just in the field of wireless telecommunications standards, there are hundreds of essential portfolios, and Motorola's assertions also include related technologies such as the H.264 video codec."
Apple and Motorola are currently engaged in a number of lawsuits across the globe, with each company accusing the other of patent infringement. Last week, Apple won an injunction against Motorola after a German court ruled that a number of its products infringe on Apple's slide-to-unlock patent.
Google announced last August that it reached a deal to acquire Motorola for $12.5 billion. Earlier this month, the U.S. Department of Justice approved the deal, but noted that Google was "more ambiguous" than both Apple and Microsoft in affirming FRAND licensing agreements for standard-essential patents.