Apple lodged FRAND abuse complaint against Motorola with European Commission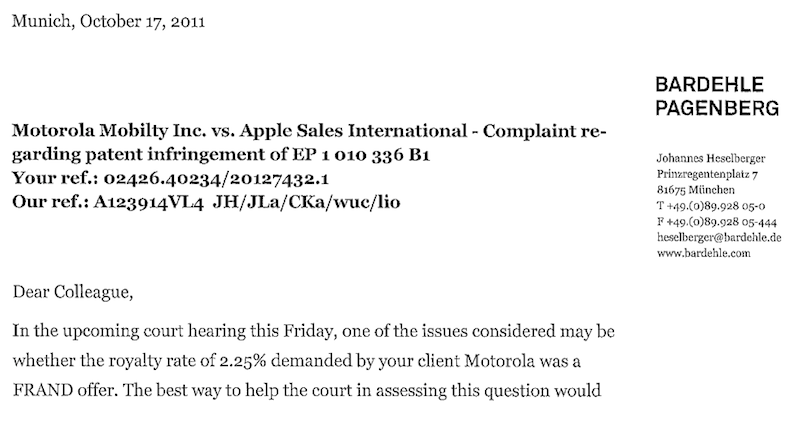 AppleInsider may earn an affiliate commission on purchases made through links on our site.
A regulatory filing from Motorola Mobility has revealed that Apple has complained to the European Commission over the handset maker's efforts to obtain injunctions against its rival by wielding standards-essential patents with FRAND commitments.
Motorola's Form 10-K annual report, filed on Friday (via MacNN), revealed that the company has just received a letter from the commission notifying it of Apple's complaint. The form disclosed ongoing legal proceedings, including its dispute with Apple.
Apple's complaint was submitted to the Competition Directorate-General and asked for the commission to intervene "with respect to standards-essential patents" (SEPs). The iPhone maker alleges that Motorola has breached its Fair, Reasonable and Non-Discriminatory commitments for its SEPs.
FRAND commitments are vital to the establishing of industry standards, especially within the wireless industry. Companies are often required to agree to license their patents on FRAND terms to competitors in order before submitting their intellectual property to standard-setting organizations. Court filings show that Motorola has offered Apple a patent license, but Apple believes the 2.25 percent royalty rate that its rival is seeking is unfair, unreasonable and discriminatory.
In Friday's filing, Motorola also said it expects International Trade Commission cases brought against it by Apple and Microsoft to be resolved in the second and third quarters of this year. The company warned that ITC losses could require it to expend "significant resources to pay damages, to develop non-infringing products or to obtain licenses." In addition, patent licenses could either be unavailable or commercially unreasonable and might potentially result in the blocking of Motorola's devices in the U.S. market.
Outside of Europe, Apple has also petitioned U.S. courts for relief from Motorola's SEP litigation. The company filed suit against Motorola in the U.S. District Court for the Southern District of California last week, alleging breach of contract on Motorola's part. Apple claims that its agreements with Qualcomm have given it a license for the two SEPs that Motorola is asserting against Apple in Germany.
Motorola had previously won injunctions against Apple for alleged infringement of push services and GPRS patents. Apple was found not to have infringed on a third standards-essential patent that Motorola brought against it in Germany.
For its part, Apple recently won a victory against Motorola in Germany. Earlier this week, a Munich regional court issued a permanent injunction against Motorola products that had been found to be infringing on Apple's slide-to-unlock patent.
The legal battle between the two companies could heat up even further when Google completes its acquisition of Motorola. At the least, the search giant has said it will uphold Motorola's aggressive tactics with respect to FRAND licensing. Though Apple and Google have become fierce rivals in several key industries, the companies have thus far largely avoided direct legal confrontations.
Both the U.S. Department of Justice and the European Commission have approved the $12.5 billion merger, but they have also voiced concerns that Google will abuse the patents it acquires from Motorola. The DoJ called out Google for being "more ambiguous" than Apple or Microsoft in its commitments to upholding FRAND licensing terms for standards-essential patents.