Mercedes-Benz to add Siri integration to new A-Class line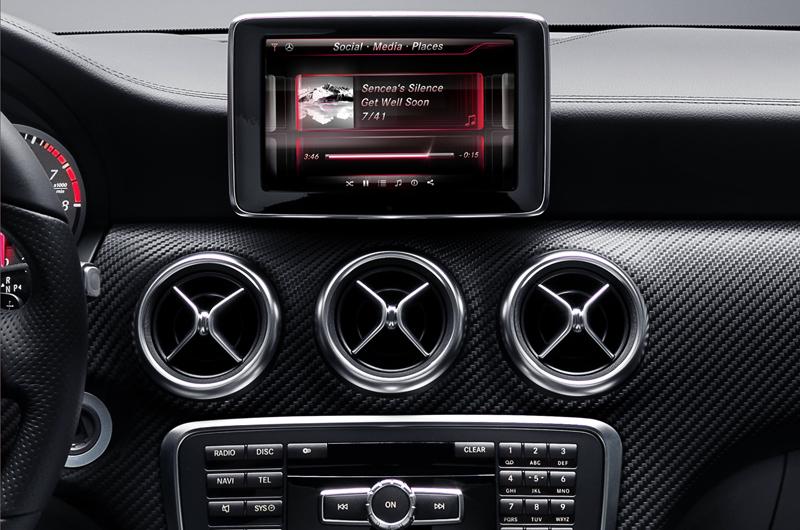 Mercedes-Benz has announced comprehensive integration between Apple's iPhone and its new A-Class line of vehicles, including support for the Siri virtual assistant found in the iPhone 4S.
Parent company Daimler recently took the wraps off an in-house-developed "Digital DriveStyle App" that will combine with a Drive Kit Plus for iPhone to incorporate the smartphone with the car's multimedia system. According to the company, all iPhone integration functions can be used with Mercedes-Benz's entry-level Audio 20 system.
The "Digital DriveStyle App" will include access to social networking sites like Facebook and Twitter and will be able to download "free of charge" from Apple's iTunes Store. Other highlighted features include personalized Internet radio, navigation software from Garmin, a "Car Finder" and access to Siri.
Mercedes-Benz is touting itself as the "first automotive manufacturer" to bring Apple's new voice-recognition software to a vehicle through its custom "Digital DriveStyle App." The iPhone will be connected via an interface that was developed by the company's accessories division and will output the handset's display to the vehicle's display while simultaneously powering and charging the device.
The A-Class will make its world premiere at the Geneva Auto Show next month. The advanced iPhone integration will eventually make its way into the automaker's B-, C- and E-Class lines this fall, according to the company's statement.
Mercedes-Benz is also building out its own cloud-based multimedia system, dubbed COMAND Online. The system, which was introduced last year, accesses the Internet through a Bluetooth link with a mobile phone and a VPN. A News app for the service is set to arrive late next month, with a number of other apps planned, including Parking Finder and Morningstar Finance. Daimler revealed that it has set up App Development Groups in California and India and plans to release "a dozen or so new applications" each year.
Mercedes-Benz has worked to pioneer support for Apple's devices in its cars in the past. It became the first automaker to offer full iPod integration in 2005 when it jointly announced with Apple the iPod Integration Kit for its vehicles.
The company has also put Apple's iPad to use inside its U.S. dealerships as a sales tool. A pilot program in 2010 tested the device at 40 dealerships, before being rolled out to all locations nationwide later that year.
Apple released Siri in beta as a major selling point of the iPhone 4S last October. Though the feature currently only remains available on the company's latest handset, Siri is expected to eventually make its way into other Apple products. Some have speculated that the third-generation iPad, which will be unveiled at a media event on March 7, could be the second device to incorporate the service.
The Cupertino, Calif., company revealed in a recent television commercial that it believes Siri is of particular use when driving. The ad, entitled "Road Trip," highlighted Siri as an invaluable companion during one couple's cross-country road trip.