Apple will close iWork.com and delete user documents on July 31, 2012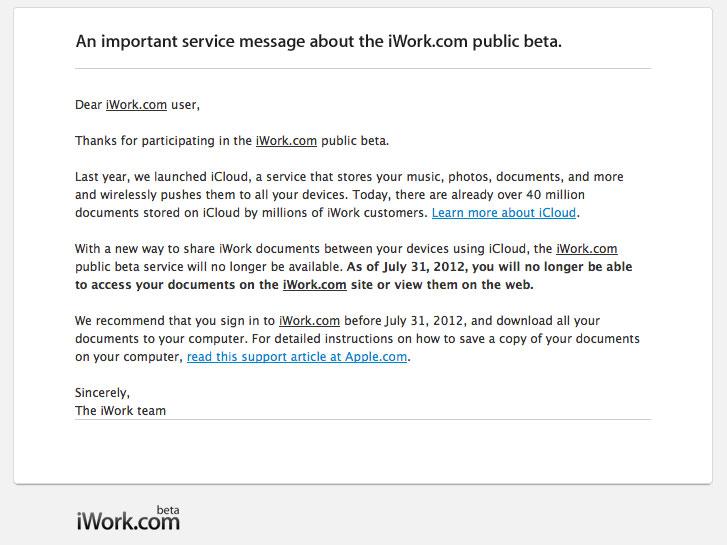 AppleInsider may earn an affiliate commission on purchases made through links on our site.
Apple's new iCloud suite will officially replace iWork.com on July 31, 2012, at which point users will no longer be able to access their documents from the site.
In an e-mail sent to users of the iWork.com public beta on Friday, Apple informed participants that they should begin migrating to iCloud. Apple has recommended that users sign in to iWork.com before July 31 to download all of their documents to their computer.
In addition, Apple has created a support document available on its website, informing users that the iWork.com public beta will be discontinued in July. There, Apple offers a list of instructions on how to download documents from the website.
"Last year, we launched iCloud, a service that stores your music, photos, documents, and more and wirelessly pushes them to all your devices," Apple's e-mail reads. "Today, there are over 40 million documents stored on iCloud by millions of iWork customers."
The iWork.com service launched in beta in early 2009. At the time, it was aimed at making it easier for iWork users on the Mac to collaborate with others using Windows and Microsoft Office.
Since then, the iWork suite of applications has also become available on iOS, with Pages, Numbers and Keynote among the most popular downloads on the iPad App Store.
The iWork suite and iOS5 also offers integration with the iCloud service, which launched last October. At the iCloud.com website, users can access their up-to-date iWork documents, synced through iCloud's Documents & Data service.