Apple avoids showcasing Google Maps in promotional material for new iPad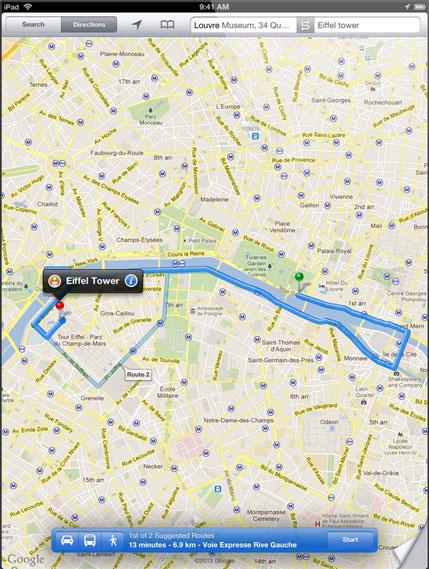 As further evidence that Apple plans to transition away from Google Maps in iOS, the company uploaded to its Web servers but chose not to publish images of Google's mapping data on the new iPad.
On the "Features" section of Apple's website promoting the new iPad, the company has a side-by-side comparison simulating the iPad 2 display as compared to the Retina display on the new iPad. The site showcases three iOS applications: iBooks, Photos and Mail.
Viewing the file names of the "Retina Gallery" images shows that they are identified with numbers. AppleInsider reader Pierre-Arnaud pointed out on Tuesday that the iBooks images are labeled as "1" and screenshots of "Photos" are "2," but the images of the Mail application are saved with the "retina_gallery_4" filename.
That means the JPG files labeled "3" were originally planned as part of the imagery, but were eventually left out of the promotional material on the finalized website.
However, the filename for "retina_gallery_3" can be manually entered into a Web browser to access the images that Apple uploaded to its website. These show that the files labeled "3" were actually screenshots of the Maps application running on iOS.
The uploaded-but-unpublished screenshot shows directions from the Louvre Museum in Paris, France, to the Eiffel Tower via Google Maps for iPad.
The specific exclusion of Maps from the promotional material is noteworthy because Apple's map software for iOS still relies on mapping data from Google. There have been numerous indications that Apple plans to transition away from Google Maps in iOS in favor of its own mapping solutions.
Most recently, Apple chose not to use Google Maps for mapping data in the new iOS version of iPhoto. Instead, Apple has implemented data from the OpenStreetMap Foundation.
Apple has also acquired a number of mapping companies in recent years, including Poly9 in 2010 and Placebase in 2009. The company also revealed in 2010 that Apple had begun using its own databases for location-based services, although it continues to rely on Google for maps and the Street View feature.
Apple even publicly revealed last year that it is working on an "improved traffic service" for the iPhone, based on location-based data it has been collecting. The "crowd-sourced traffic database" has been tested by Apple with anonymous traffic data it has collected from iPhone users.
Further potential justification for Apple to transition away from Google Maps came last year, when Google announced also announced it will begin to charge partners who heavily use its Maps application programming interface. The search giant will charge $4 per 1,000 views for partners who serve up more than 25,000 uses per day of the Google Maps API.