NPD ranks iPhone 4S as America's most popular 4G phone due to HSPA+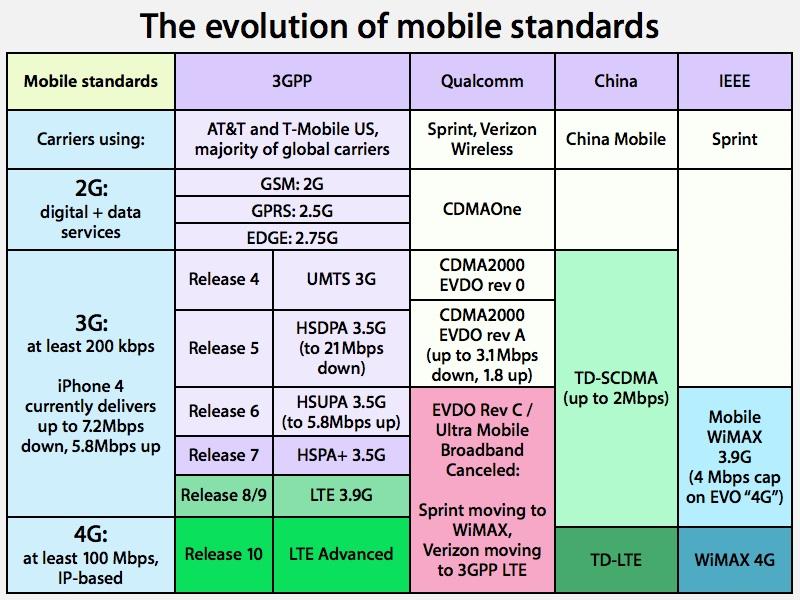 AppleInsider is supported by its audience and may earn commission as an Amazon Associate and affiliate partner on qualifying purchases. These affiliate partnerships do not influence our editorial content.
NPD Group has named Apple's iPhone 4S the most popular 4G smartphone, using a definition of fourth generation mobile networks that includes not just LTE and Sprint's WiMax but also the HSPA+ technology used by T-Mobile and AT&T.
The firm notes that the market for 4G phones grew from 6 percent in the third calendar quarter of 201 to to 35 percent in the fourth, the same quarter that Apple began shipping iPhone 4S.
"The most popular 4G network technology in smartphones was HSPA+, at 22 percent of smartphone sales," NPD group stated in a press release, which noted "top-selling mobile phones for each 4G technology in 2011" as including the HTC Thunderbolt (on Verizon Wireless) for LTE, HTC's EVO (on Sprint) for WiMax, and Apple's iPhone 4S (on AT&T) for HSPA+.
"The only 4G network technology offered by AT&T until 2011 and still the only 4G technology offered by T-Mobile, HSPA+ received a tremendous boost in Q4, because it was the only 4G technology supported by the popular iPhone 4S," the firm stated.
Despite efforts by all the major American carriers to promote their new 4G networks throughout 2011, Apple's iPhone 4 and 4S were by far the most popular phone models in the country, even though Apple never marketed the phones as being 4G.
A variety of pundits and fans were upset to see Apple adding a "4G" indicator in iOS 5.1 that lights up whenever iPhone 4S activates an HSPA+ connection, arguing that the only legitimate 4G technology is LTE, which no model of iPhone currently supports. Apple refers to the new iPad as being 4G, but it does support LTE on supported carriers, including AT&T and Verizon, for the new tablet.
However, the original definition of 4G wireless mobile technology set by the International Telecommunications Union (as depicted below) required speeds of at least 100Mbit/s, far higher than LTE or any other mobile wireless technology now being built out.
The original definition of 4G also required to a move to packet switched IP networks, rather than the circuit-switched technology used by existing 2G and 3G mobile telephony systems. 4G networks were also supposed to abandon the CDMA spread spectrum radio technology used by today's 3G networks (including Verizon's EvDO and AT&T's GSM/UMTS) in favor of new OFDMA multi carrier transmissions.
None of the systems marketed today as "4G" fit any of these definitions, including the the stopgap version of LTE being built out by AT&T and Verizon and the version of WiMax deployed by Sprint.
It won't be until the successor of today's LTE, a new generation known as "LTE-Advanced," arrives that this original definition of 4G will even become available on the market. A successor WiMax, named "WirelessMAN-Advanced" would also fit the original definition of 4G, but Sprint appears ready to migrate toward LTE rather than continuing its solo effort to use successive generations of WiMax technology.
People who are adamantly opposed to calling anything "4G" apart from LTE (or WiMax) are not just missing the fact that today's LTE and WiMax aren't actually 4G either, but also the fact that over a year ago, the ITU itself redefined 4G to include today's versions of WiMax, LTE and HSPA+.
Efforts by T-Mobile and later AT&T to describe their fastest HSPA+ technologies as "4G" therefore aren't just delusional marketing slight of hand, but equally legitimate to Verizon and Sprint's marketing of pre-4G versions of LTE and WiMax.
"Following a detailed evaluation against stringent technical and operational criteria, ITU has determined that 'LTE-Advanced' and 'WirelessMAN-Advanced' should be accorded the official designation of IMT-Advanced," the standards body announced in December of 2010.
"As the most advanced technologies currently defined for global wireless mobile broadband communications, IMT-Advanced is considered as '4G,' although it is recognized that this term, while undefined, may also be applied to the forerunners of these technologies, LTE and WiMax, and to other evolved 3G technologies providing a substantial level of improvement in performance and capabilities with respect to the initial third generation systems now deployed. The detailed specifications of the IMT-Advanced technologies will be provided in a new ITU-R Recommendation expected in early 2012."
Apple outsells "phony 4G" with "ITU 4G" without even using 4G marketing
That means that purists who ignore the ITU's ability to define its own standards must concede that today's LTE and WiMax products heavily marketed as "4G" by carriers Verizon and Sprint and by Android licensees including HTC, Samsung and Motorola are phony misrepresentations of what 4G was originally intended to represent.
By the same token, if today's LTE being build out by AT&T and Verizon is 4G, then the HSPA+ networks built out by AT&T and T-Mobile are also 4G, as the ITU defines them all in the same category, and all have similar actual throughputs.
The largest difference between Verizon's LTE and AT&T's is that Verizon was motivated to build out its newest network technology the fastest, because its version of 3G, EvDo, was by far the slowest. When AppleInsider tested iPhone 4S on Verizon and Sprint's 3G EVDo networks against AT&T's UMTS network, we consistently found speeds half that of AT&T's, although AT&T's service coverage was often not as broad or as reliable as Verizon's.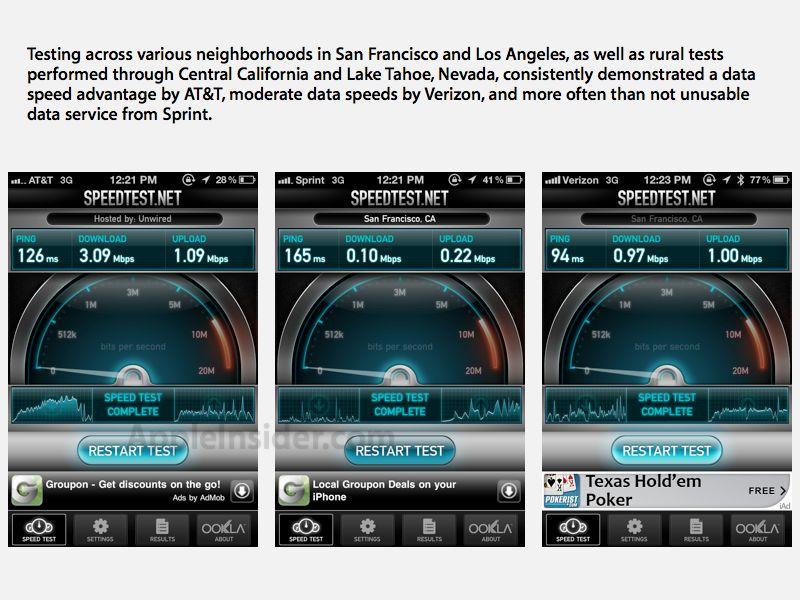 Apple has never marketed iPhone 4S as being a 4G phone, despite its ability to connect to next generation networks the ITU has defined as 4G for nearly a year before it was released. This makes it all the more significant that Apple was able to outsell phones being extensively marketed as 4G with both iPhone 4S, as well as the earlier iPhone 4 and iPhone 3GS, neither of which can connect to mobile networks faster than 7Mbit/s UMTS, a step below the ITU's present definition of 4G.