OS X Lion tested with unreleased Intel Core i7 Ivy Bridge chip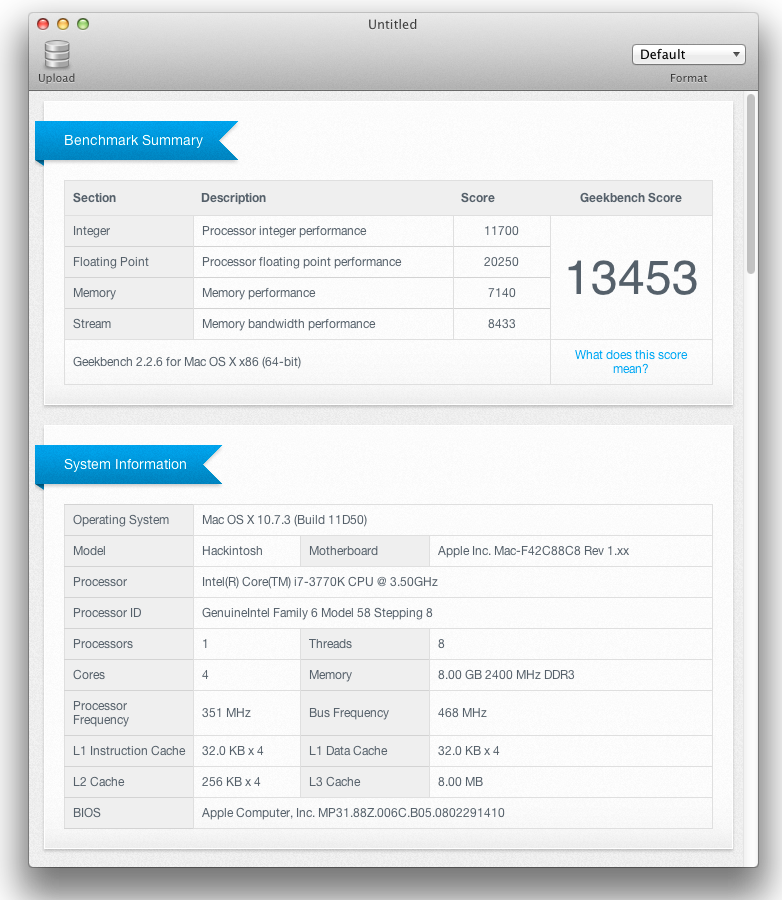 A modified version of OS X 10.7.3 has been tested with an unreleased Intel Core i7 Ivy Bridge chip, giving a first indication of how Apple's next-generation Macs will perform.
An anonymous tipster provided screenshots of benchmarks conducted with a Core i7-3770K processor to the blog of "tonymacx86." The Core i7 CPU is one of Intel's next-generation Ivy Bridge processors, and was tested at its stock speed of 3.5GHz.
The early test, which used a Z77 motherboard, found that OS X runs well on Intel's forthcoming Ivy Bridge processors. However, while the tests give an idea of how Ivy Bridge will perform with new Macs, the "Hackintosh" benchmarks do not represent any real Apple products.
The person testing the new Intel processor had to modify the boot kernel of OS X 10.7.3 Lion in order to get it to run on the chip. In addition, the Core i7-3770K is a high-end desktop chip that may never find its way into any of Apple's shipping products.
Still, the tests offer the first look at Apple's OS X operating system running on an Ivy Bridge chip. It's also the first glimpse at Intel's HD Graphics 4000, which previous tests running Windows 7 found is 55 percent faster than the 3000 series graphics integrated with the Sandy Bridge processors released by Intel last year.
The "Hackintosh" machine earned an overall Geekbench score of 13,453, led by a score of 20,250 for its processor floating point performance. The tests gauged the quad-core processor with 8 gigabytes of 2400MHz DDR3 RAM.
Apple's new Macs with Ivy Bridge processors are expected to begin debuting in the coming months, starting with new, slimmer 13- and 15-inch MacBook Pros that are rumored to already be in production. The new 15-inch model is expected to be offered in variations powered by Intel's mobile Core i5 and i7 Ivy Bridge CPUs.
AppleInsider reported in February that Apple will conduct a top-to-bottom revamp of its notebooks lineup throughout 2012 that will bring its MacBook Pro portables more in line with the MacBook Air designs. Intel's new Ivy Bridge processors will also feature support for 4K resolutions, allowing Apple to potentially build high-resolution Retina displays for its next-generation Macs.