Intel's Ivy Bridge support for 4K resolution could pave way for 'Retina' Macs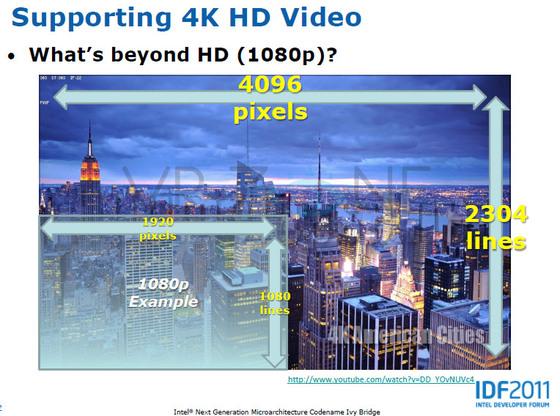 AppleInsider may earn an affiliate commission on purchases made through links on our site.
Intel quietly revealed last week that its next-generation Ivy Bridge processors will support the 4K display resolution, with up to 4096 x 4096 pixels per monitor, potentially paving the way for Apple to introduce high-resolution "Retina Display" Macs.
The world's largest chipmaker announced the news during a technical session at its Intel Developer Forum in San Francisco last week, as noted by VR-Zone. Ivy Bridge chips will rival competing discrete GPUs by including support for the 4K resolution when they arrive next year.
The company also highlighted a Multi Format Codec (MFX) engine that is capable of playing multiple 4K videos at once. The codec is also capable of handling video processing for 4K QuadHD video, a standard that YouTube began supporting last year.
A set of performance enhancements, with special attention to graphics, should give Ivy Bridge as much as a 60 percent performance boost over the current generation of Sandy Bridge chips, according to Intel.
Intel also revealed last week that Ivy Bridge chips will include support for Apple's OpenCL standard, which should give a performance boost to next-generation MacBook Air and 13-inch MacBook Pro models when they arrive in 2012.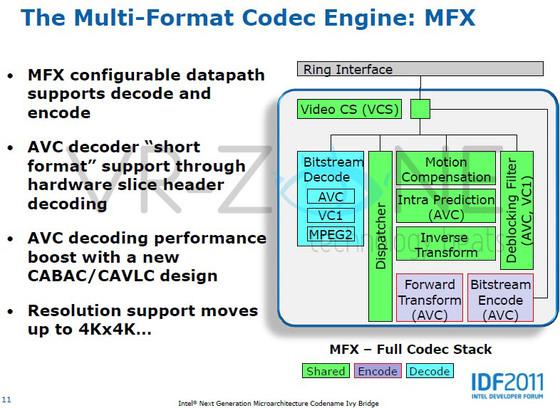 If Apple were to introduce a 4K resolution display with the 16:9 ratio currently used in its Thunderbolt Display, iMac and MacBook Air products, the resulting resolution would be 4096 x 2304. A 27-inch display with 4K resolution would sport a pixel density of 174 pixels per inch. Assuming a working distance of 24 inches and 20/20 vision for the calculations, a 4K 27-inch iMac or Thunderbolt display would count as a "Retina Display."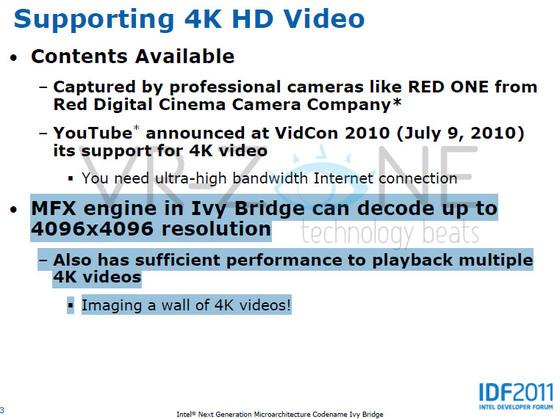 Apple first began using the "Retina Display" marketing term with the iPhone 4 last year. Then CEO Steve Jobs touted the 326ppi display as being beyond the capabilities of the human retina when used at a distance of 12 or more inches from the eyes.
In September 2010, the company released a Retina Display iPod touch. Rumors have also swirled that Apple will follow suit with a high-resolution version of the third-generation iPad, doubling the resolution of the tablet to 2048 x 1536.
Of course, Macs that take full advantage of the 4K resolution capabilities built into future generations of Intel's chips would take some time to arrive, as Apple will need to resolve price and production constraints before releasing a Retina Display desktop or notebook. But, 3200 x 2000 desktop wallpapers were discovered in a Developer Preview of Mac OS X Lion earlier this year and appear to telegraph a future resolution bump for Apple's line of Mac computers.
Also of note, Apple added 4K support to its Final Cut Pro video editing program when it released version X in June. However, Final Cut Pro X has caused a controversy, as some users have complained that the application is no longer "pro" software.