ESPN collaborating with Apple, appears ready to add sports scores to Siri

AppleInsider is supported by its audience and may earn commission as an Amazon Associate and affiliate partner on qualifying purchases. These affiliate partnerships do not influence our editorial content.
Apple's Siri development team, one of the largest in the company, appears to be working to add sports scores to the mobile assistant service, possibly through a partnership with ESPN.
Clues into the next services Siri will expand to provide were provided by Evan Coleman, an iOS developer who has created a plugin that fetches sports scores via Siri, albeit one that requires a jailbreak to work.
Coleman reports that Siri parses user requests by breaking down speech into recognized tokens. As an example, his blog entry notes that a request for the weather in New York City returns "New York City" as a recognized token, rather than three independent words.
In testing, Coleman found that Siri already recognizes sports teams as a token, so when asking "who's winning the New York Yankees game?" Siri responds with "New York Yankees" as a token.
Coleman also notes that ESPN has released a developers API for accessing sports scores, but has limited access to "strategic partners." When asked if ESPN would allow access to his app, the company responded that "jailbroken apps isn't something we're willing to support," adding, "as you can imagine ESPN works closely with Apple on many fronts."
ESPN, part of ABC, is owned by Disney, which has long been a close and prominent Apple partner in iTunes. ESPN and ABC Sports were the first to offer sports programming in iTunes in 2006. In 2010, Disney was quick to bring its ESPN ScoreCenter XL app to the then-new iPad, and now has 18 iPad-specific titles.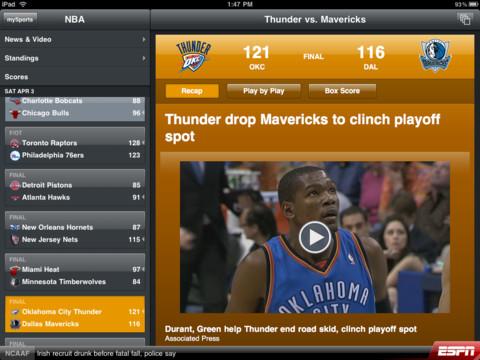 Apple's chief executive Tim Cook is also a self described sports fan, once responding to a woman who insisted he see Mike Daisey's The Agony and the Ecstasy of Steve Jobs, "if it's not on ESPN or CNBC, I don't see it."