Apple interested in bringing Siri to the Mac via iPhone pairing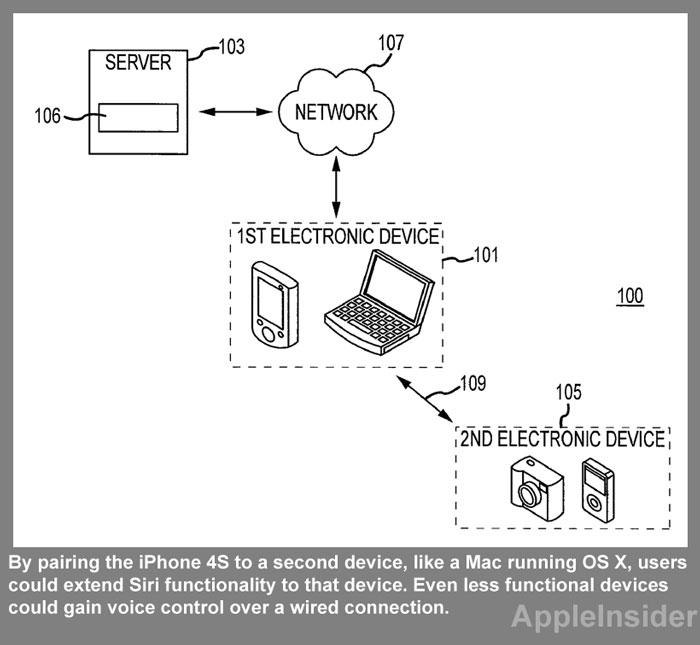 AppleInsider is supported by its audience and may earn commission as an Amazon Associate and affiliate partner on qualifying purchases. These affiliate partnerships do not influence our editorial content.
Apple has shown interest in bringing Siri functionality to other devices, like Macs, by pairing them with an iPhone to share its voice control abilities.
The concept was revealed in a Siri-centric patent application made public this week and discovered by AppleInsider, entitled "Voice Control System." It describes the current Siri system found on the iPhone 4S, but adds the new element of pairing with a second electronic device to grant it voice control.
The filing notes that speech recognition software typically requires extensive hardware and software to operate properly. As a result, it's advantageous to have the bulk of the processing done via a remote server, just how Siri currently operates with the iPhone 4S.
But Apple's latest patent application also describes "a remote device communicatively coupled to the electronic device" that runs Siri. By pairing the iPhone 4S to a second device, like a Mac running OS X, users could extend Siri functionality to that device. Listed as potential devices to be included in the pairing are laptop and desktop computers.
Siri capabilities could even come to devices less functional than a Mac, as the application notes that only one of the electronic devices included in the pairing needs a microphone, processor and storage device. The paired device could be tethered through a wired connection and could gain voice control functionality in that manner as well.
The application also describes ways that Siri could potentially be improved in the future when utilizing two different devices. In one example, a user teaches Siri a new voice command by speaking the word "Play" as they press the "play" button on the paired second electronic device.
In another example, Siri could be configured to distinguish one person from another by the sound of their voice. This would allow the system to "train" itself to better recognize a user's voice, or could even be used to provide custom controls for each individual user.
Siri is currently only available on the iPhone 4S, but Apple's latest patent application describes a way that the company could bring the same functionality to other devices while still keeping the voice processing exclusive to the smartphone. This is advantageous because the iPhone has a persistent wireless data connection to connect to Apple's servers for the speech recognition functionality to work.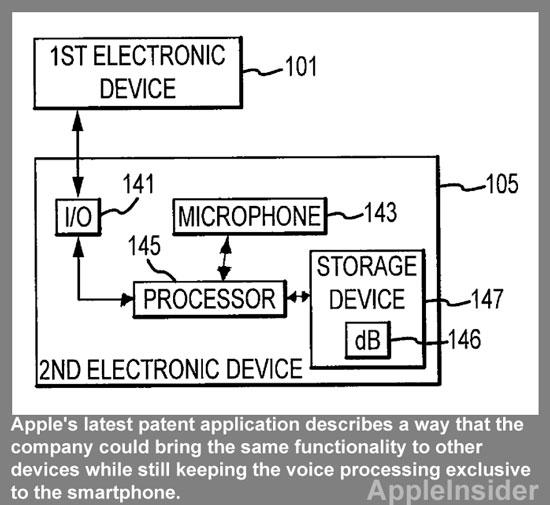 Apple's new iPad has a more limited form of voice recognition with a dictation feature, but it too requires a data connection to operate. That means users of a Wi-Fi-only iPad who are on the go without a connection cannot use the dictation feature to translate speech to text.
The "Voice Control System" patent application published this week by the U.S. Patent and Trademark Office was originally filed by Apple in September of 2010. It is credited to Fletcher Rothkopf, Stephen Brian Lynch, Adam Mittleman, and Phil Hobson.