iPhone 4 owners who didn't take a free case can now claim $15 settlement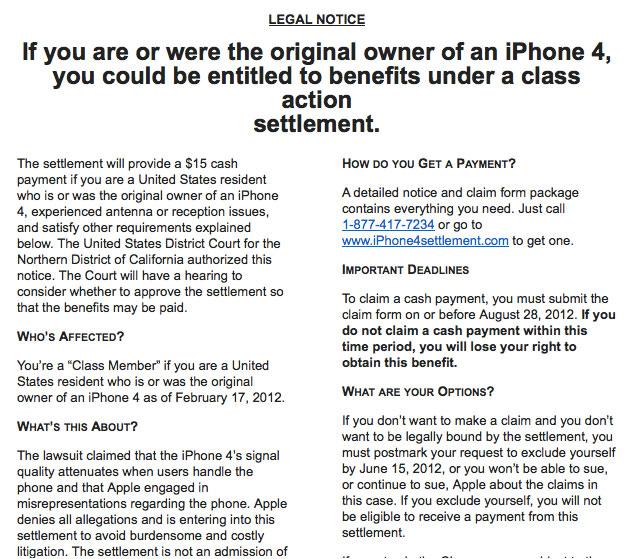 AppleInsider is supported by its audience and may earn commission as an Amazon Associate and affiliate partner on qualifying purchases. These affiliate partnerships do not influence our editorial content.
Legal notices began arriving with iPhone 4 owners on Thursday, informing them that they can receive $15 if they refused to take a free case from Apple as a result of a class-action settlement.
It was first announced in February that Apple had settled a class-action lawsuit over reception concerns with the iPhone 4 antenna. The settlement offers users either a free iPhone bumper case, which the company sells for $29, or they can instead opt to receive $15 in cash.
Apple said in a statement that the settlement relates to a "small number" of users who experienced reception issues with the iPhone 4, but didn't take advantage of the free case program the company offered for a limited time in 2010.
Even though the iPhone 4 free bumper case program technically ended on Sept. 30, 2010, Apple quietly still offered free cases after that deadline to customers who contacted AppleCare support with reception issues. Those involved in the lawsuit only gain the new option of accepting $15, which is about half the value of the bumper case.
iPhone 4 owners were notified of the settlement in an e-mail sent out on Thursday. Customers are a "class member" of the suit if they are a U.S. resident who is or was the original owner of an iPhone 4 as of February 17, 2012.
"The settlement will provide a $15 cash payment if you are a United States resident who is or was the original owner of an iPhone 4, experienced antenna or reception issues, and satisfy other requirements explained below," the note reads. "The United States District Court for the Northern District of California authorized this notice. The Court will have a hearing to consider whether to approve the settlement so that the benefits may be paid."
Those who would rather receive a free case from Apple can visit an official support page on the company's website. They are eligible to request a free black iPhone 4 Bumper from an Authorized iPhone Service Provider.
Those who would rather receive the $15 cash payment must receive a detailed notice and claim form package. Customers can call 1-877-417-7234 or go to www.iPhone4settlement.com to get one.
"The lawsuit claimed that the iPhone 4's signal quality attenuates when users handle the phone and that Apple engaged in misrepresentations regarding the phone," the note reads. "Apple denies all allegations and is entering into this settlement to avoid burdensome and costly litigation. The settlement is not an admission of wrongdoing."
To obtain a cash payment, customers must submit the claim form on or before August 28, 2012. Those who do not claim a cash payment within this time period lose their right to obtain this benefit.