Bloom Energy to power Apple's fuel cell farm in N.C.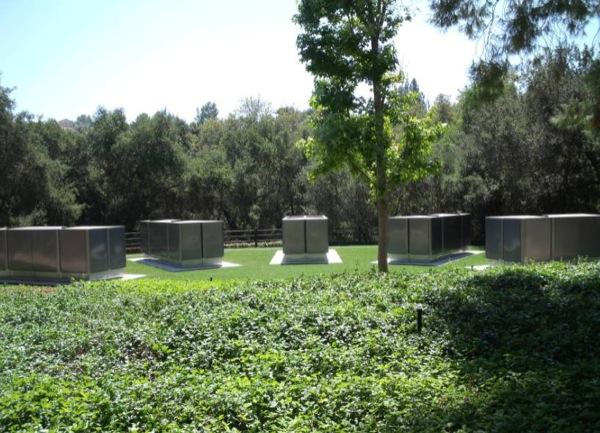 A filing with North Carolina's Utilities Commission reveals that Apple's 4.8-megawatt fuel cell farm at its North Carolina data center will use Bloom Energy's "Bloom Energy Servers," and is set to be the largest of its kind outside of electric company installations.
According to the project's filing, the fuel cells will be installed within the year and will join the solar farm in the same complex that powers the company's Maiden, N.C. data center, the home of iCloud and the Siri voice assistant., reports Greensboro newspaper the News & Record.
The news confirms previous rumors that the Cupertino, Calif., company would adding a hydrogen-based energy solution to its existing 20-megawatt solar farm project, which itself is the largest private solar array in the country.
"That's a huge vote of confidence in fuel cells," said James Warner, policy director of the Fuel Cell and Hydrogen Energy Association in Washington.
The filing also names the company supplying Apple's fuel cells as Bloom Energy, the only firm capable of filling an order of such magnitude. The clean energy solutions company already has Bloom Energy Servers on Apple's Cupertino campus.
The Maiden installation will consist of 24 Bloom units that will extract hydrogen from an undisclosed amount of natural gas provided by Piedmont Natural Gas. In order to be considered a renewable facility, Apple or Bloom will have to produce biogas of its own to offset the natural gas usage, though a provider has yet to be announced.

Apple's project would be ten times larger than Bank of America's 500 kW
Bloom installation in Southern California. | Source: Bloom
A report from the U.S. Energy Information Administration, the cost of using fuel cells comes to about $6.7 million per megawatt, making it one of the most expensive forms of energy production available. This means that Apple's project will cost the company approximately $30 million.
The federal government offers a 30 percent tax break for fuel cell use, though North Carolina currently has no incentives in place for the technology. There is a possibility, however, that Apple may sell some of the electricity it produces to Duke University, which is required by state law to buy power generated from renewable resources. Any deals between Duke and Apple will be done outside the purview of governmental agencies.