Apple's North Carolina solar, fuel cell plants will be largest of their kind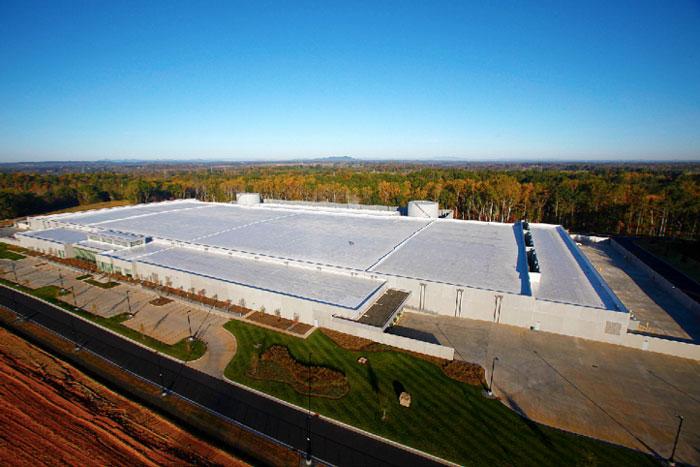 Apple's solar farm in North Carolina will be a 20-megawatt, 100-acre facility that is the largest end-user-owned onsite solar array in the country. It and a previously undisclosed fuel cell installation will power a data center that is the only in its class to achieve LEED Platinum certification.
More details on the company's forthcoming solar project were revealed in an update to the company's website on green initiatives and environmental impacts, along with a new Facilities Environmental Report. The updated report, first noticed by CNet, reveals that the company's data center in Maiden, N.C., is the largest in its class with LEED Platinum certification from the U.S. Green Building Council.
"Our goal is to run the Maiden facility with high percentage renewable energy mix, and we have major projects under way to achieve this — including building the nation's largest end user-owned solar array and building the largest nonutility fuel cell installation in the United States," the site reads.
Appel's 100-acre solar facility will supply 42 million kWh of clean, renewable energy annually, the company's report states.
It also gives details on a new 5-megawatt fuel cell installation that is scheduled to open later this year. When it does, it will be the largest non-utility fuel cell installation operating anywhere in the country.
The fuel cell installation will be powered by 100 percent biogas, Apple revealed, and it will provide more than 40 million kWh of 24x7 baseload renewable energy annually.
Apple first announced plans to build its massive $1 billion server farm in Maiden in 2009. The facility opened last spring, and only months after, Apple's plans to build a solar farm on an adjacent property were revealed.
The Maiden data center helps to power Apple's online operations, including the iCloud umbrella of Web applications and services, and the iTunes Store that serves up applications, music, movies, books and more.
Apple's environmental website reveals that the company estimates 98 percent of its carbon emissions come from manufacturing, transportation, use and recycling of its products. Just 2 percent is estimated to come from its facilities.
The company also boasts that it has reduced carbon emissions on a number of its products, most notably the Apple TV set-top box. From 2007 to 2011, carbon emissions with the Apple TV were reduced by 90 percent. The iMac has also seen a 50 percent reduction from 1998 to 2011, while the Mac mini has dropped 52 percent.
Apple has also reduced the packaging associated with the iPhone by 42 percent from 2007 to 2011. That allows the company to ship 80 percent more boxes in each airline shipping container, saving one 747 flight for every 371,250 boxes Apple ships.