JP Morgan significantly increases March quarter iPhone, iPad estimates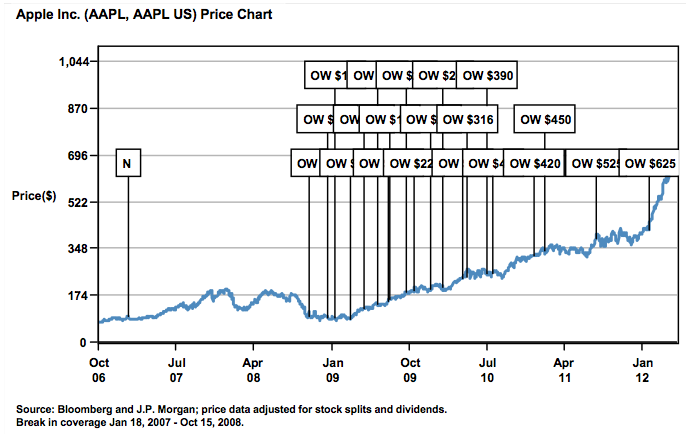 AppleInsider may earn an affiliate commission on purchases made through links on our site.
Investment bank J.P. Morgan has made "significant increases" to both its iPhone and iPad projections for the first quarter of calendar 2012 after research indicated "major upside potential" to Apple's sales numbers.
Analyst Mark Moskowitz raised his December 2012 price target for Apple from $625 to $715 in a note to investors obtained by AppleInsider on Tuesday. The firm also raised its unit shipment estimates for the company on "better than expected unit sales activity of the iPhone and iPad."
"We are not trying to inflate expectations ahead of the [March quarter] print. Our intent is to communicate the incremental delta in our new and old estimates as identified by our recent research," he said.
J.P. Morgan had previously expected iPhone shipments to reach 28.1 million in the first quarter of 2012 (Apple's fiscal second quarter), but the company now believes that shipments will reach 31.1 million units. iPhone shipments for the year are now forecast at 138.2 million, up from 128.7 million. Moskowitz believes investors are expecting between 29 and 31 million units.
The analyst believes Apple's 2012 iPhone revamp will arrive in the second half of 2012 and include a "thinner body and LTE capability."
As for the iPad, the firm now estimates shipments of 13.8 million in the March quarter, compared to a prior projection of 10.1 million units. 2012 shipments of iPads are believed to rise to 69.6 million, up from a previous forecast of 59.8 million.
Moskowitz also wrote that he expects Apple to "refresh its MacBook portfolio, including the Air, in the next three months." The firm believes the company needs to improve its portables' specifications and features while introducing lower price points in order to stay ahead of price reductions from the "Ultrabook crowd."
"Plus, we think that Apple needs to sustain its competitive edge on the technology front. Otherwise, it is our view that investors could worry that future Apple product refreshes (i.e., iPhone or iPad) could lose customer appeal," he wrote.
Finally, the analyst pointed to enterprise PCs as "long-term catalyst" for Apple. He expects the "eventual introduction" of Microsoft Office to crack open the enterprise market to Apple's tablet. Enterprise PCs represent 40 percent of global PC units, but enterprise tablets stand at an estimated 10 percent of global tablet units. As such, Moskowitz sees plenty of room for growth as companies take to the iPad.