Apple looking to build 'unibody' earbuds through ultrasonic bonding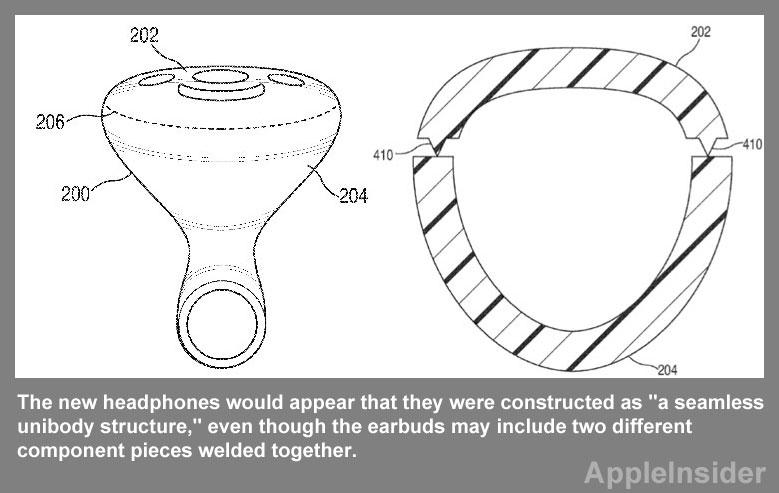 By using a process known as ultrasonic bonding, Apple could create new iPhone and iPod earbuds that would have a seamless, more aesthetically pleasing "unibody" appearance.
Headsets and earbuds include a number of different components — such as cables, a jack, a microphone, and the headphones — all of which must be pieced together. The result, Apple believes, can be "abrupt and aesthetically displeasing."
The company could resolve this with new headsets featuring a range of components that would "seamlessly integrate" with one another, as described in a new patent application discovered by AppleInsider. The filing, entitled "Ultrasonically Welded Structures and Methods for Making the Same," describes how different components could be welded together for a seamless look.
Apple describes the new headphones as having an appearance that they were constructed as "a seamless unibody structure," even though the earbuds may include two different component pieces welded together.
Combining two different elements in this way may form a weld ring that can be cut, sanded, polished and cleaned. This allows the headphone to appear to be one piece, even though it may actually be a number of connected pieces.
Apple's desire to build a better set of earbuds was also detailed in a separate application published this week, entitled "Curved Plastic Object and Systems and Methods for Deburring the Same." It describes building curved plastic objects in the shape of a cap or grill of a headphone or earbud.
The filing notes that holes are needed in earbuds to allow sound to travel, but the creation of those holes can result in remnants in or around them that degrade both the appearance of the device and the acoustic properties of the headphones.
The solution presented in that application is a tool for "deburring" a curved plastic object. The tool could be coated in an abrasive material and would conform to the shape of the curved object, then polish it by vibrating while in contact with the plastic surface.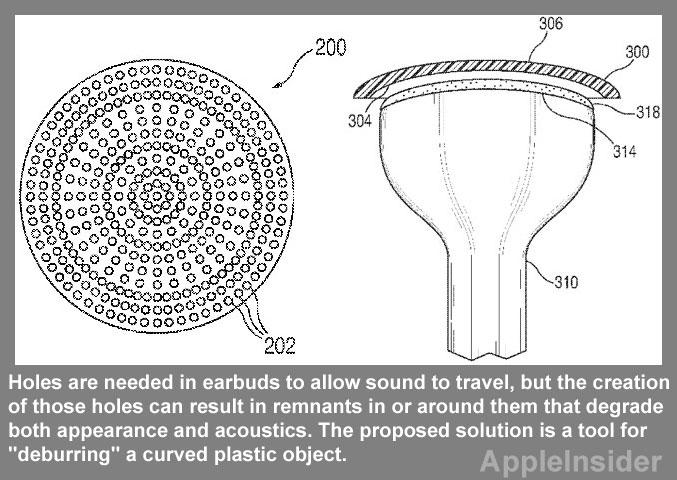 Both the inner and outer surfaces would be both "deburred" and polished, ensuring that no remnants remain in the holes or on any surface of the headphones.
The ultrasonic welding patent application is credited to Jeff Hayashida, Jonathan Aase, Rico Zorkendorfer, and Evans M. Hankey. Both Hayashida and Aase are also credited with the curved plastic patent application.