Apple encouraging iCloud upgrades with free Snow Leopard for MobileMe users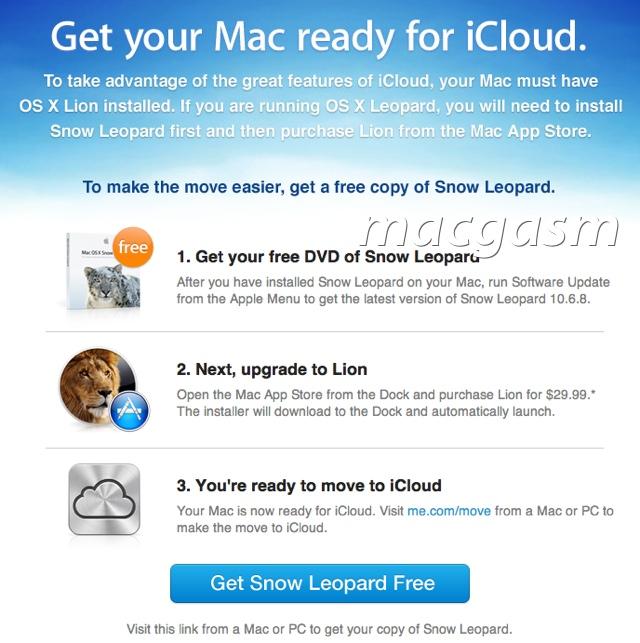 In an effort to push customers toward iCloud ahead of shuttering its MobileMe service, Apple has reportedly begun offering free copies of OS X Snow Leopard to MobileMe users still on the older Leopard version.
Macgasm reported on Wednesday that the Mac maker had sent an article to MobileMe customers with an offer for a free DVD of OS X Snow Leopard. The move comes as Apple is just months away from its June 30 deadline to close the service.
It's not immediately clear, however, exactly who is eligible for the free upgrade offer, which expires on June 15. The publication contacted Apple to clarify but had yet to hear back from the company.
Apple's email reportedly outlines a three-step process for bringing MobileMe Leopard users onto iCloud. First, customers will need to get their free DVD of Snow Leopard. Once the new operating system is installed, they can purchase and install OS X Lion via the Mac App Store. Finally, they can visit me.com/move to bring their MobileMe accounts over to iCloud.
iCloud incorporates many of the features and services that MobileMe offers, though some have been cut. Apple confirmed last year that iDisk, Gallery and iWeb will be discontinued with MobileMe.
MobileMe got off to a shaky start that prompted harsh criticism of the development team from late Apple co-founder Steve Jobs.
"You've tarnished Apple's reputation..." he reportedly told the team. "You should hate each other for having let each other down."
At the introduction of iCloud last year, Jobs said the MobileMe launch was not "Apple's finest hour" and pledged that the service would be different because "it all just works." Apple has, however, had some trouble making the transition to iCloud. Just this week, a small number of users experienced disruption of service to their iCloud mail accounts.
The company's efforts to move users over to iCloud reflect its own belief that iCloud, unlike MobileMe, is here to stay. CEO Tim Cook said in February that iCloud, which has more than 100 million users, will be the center of Apple's strategy "for the next decade or more."