Apple launches 'iPhone in Business' webpage for enterprise users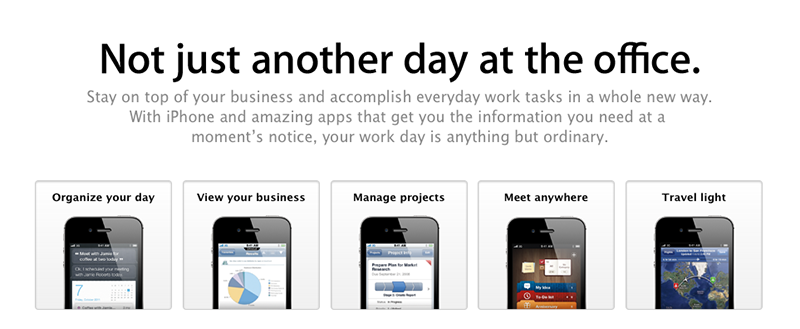 A Friday update to Apple's iPhone landing page brings a new section dedicated to enterprise customers, showcasing the handset's capabilities both in-office and out.
The "iPhone in Business" site holds five sub-sections: iPhone at Work, Integration, Apps for Business, Profiles and Resources.
Boasting a comprehensive look into how the iPhone can help a business, the new page uses both pre-installed apps like Calendar and third-party apps to illustrate how the smartphone can be used to streamline operations at a large business.
The "iPhone at Work" section highlights the numerous apps available for business organization and management, including travel planning, meeting scheduling and constant contact with colleagues. The comprehensive landing page advertises mostly third-party apps like OmniFocus and analytics tools like Roambi.
On the "Integration" page, Apple offers information regarding the iPhone's support for Microsoft Exchange, VPNs and enterprise Wi-Fi. Also advertised is the security built in to iOS and the flexibility of deploying multiple handsets to employees. The page also holds links to Apple Support documents regarding integration and enterprise-related rollouts.
"Apps for Business" shows how top business and productivity apps from the App Store can help in a variety of scenarios, complete with links to purchase the apps through iTunes.
The "Profiles" page features links to stories where the iPhone and iPad were deployed successfully and run the gamut of companies, from Dow to small businesses like Jackson Kayak.
Finally, the "Resources" page aggregates useful support articles and guides to get an enterprise started with iDevices.
Apple products have been gaining traction in the large business sector led by the iPad's flexibility and popularity with regular consumers.