12% of iPad owners in the enterprise no longer use their laptop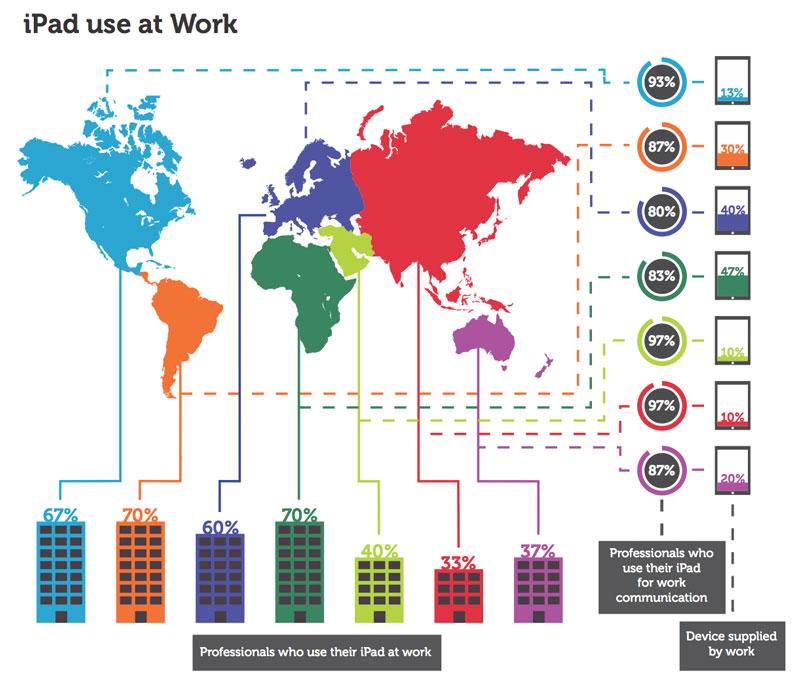 More than one in ten iPad owning business professionals have indicated that Apple's touchscreen tablet has become their portable device of choice, completely replacing their laptop.
The role of the iPad in the enterprise was explored in a new study revealed this week by IDG Connect. The "iPad for Business Survey 2012" features interviews with IT and business professionals from around the world.
The survey found that 12 percent of workers indicated that the iPad has "completely replaced" their traditional laptop. Another 54 percent said the iPad has "partly" replaced their laptop, and instead complements it on the go.
"If a majority of professionals still use laptops, the iPad has certainly curtailed usage levels," the report reads. "Nearly three-quarters of respondents say that they 'carry their laptop around less' now that they own an iPad."
The iPad has had less of an effect on desktop PCs, where just 6 percent of respondents said the iPad has "completely" replaced their desktop, while 33 percent said the iPad has "partly" replaced their desktop.
"For most, the iPad isn't a substitute for an existing tool or device," IDG said. "Instead, it's a supplement, albeit one with functionality that overlaps with other devices. As a result, the iPad seems to have carved out a niche for itself at the partial expense of several rival form factors."
The iPad has earned a major presence in the enterprise thanks mostly to consumers who buy Apple's tablet with their own money. Three-quarters of respondents told IDG that they bought their iPad privately, while one-quarter said they were supplied with an iPad by their employer.
The most common use of the iPad among professionals is Web browsing, which 79 percent said they "always" use the device for. Reading followed closely with 76 percent, news consumption had 73 percent, and work communication earned 54 percent.
In all, 91 percent of professionals who own an iPad said they use the device at work — 51 percent "always" use their iPad at work, while 40 percent said it is used there "sometimes." And the iPad has quickly become IT professionals' go-to device for computing on the go, as 79 percent said they "always" use their iPads outside of their home.
IDG's findings are just the latest survey to find that the iPad is the tablet of choice among enterprise users. One survey revealed last October found that the iPad represented 96 percent of total tablet activations in the workplace.
In their last quarterly earnings report in October, Apple officials revealed that 90 percent of the Fortune 500 were deploying or testing the iPad, even though the device had only been available on the market for 18 months.