Wall Street: Q2 earnings prove Apple is beginning 'international growth story'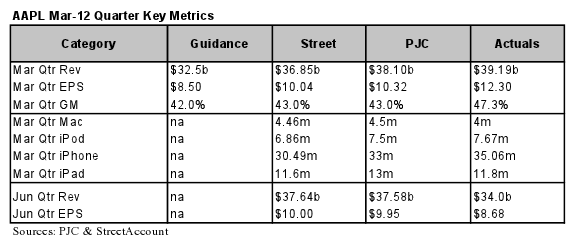 After Apple announced record March quarter earnings of $11.6 billion, Wall Street watchers responded enthusiastically, with one analyst calling it proof of the beginning of an "international growth story" for the company.
The Cupertino, Calif., company reported a 94 percent rise in profits year over year for its second quarter of fiscal 2012 on sales of 35.1 million iPhones, 11.8 million iPads and 4 million Macs. The results were enough to give Apple its second-best quarter ever, behind only the most-recent holiday quarter.
Though analysts noted Apple's conservative guidance for the June quarter, they were generally upbeat about the company's future prospects, especially in international markets like China.
In a note to investors late Monday, Gene Munster wrote that Apple's earnings beat was "proof that international growth story is just beginning." He pointed to the fact that iPhone sales in Greater China were up five times the year ago quarter as a key piece of evidence for this assertion.
"Our confidence that Apple can win with an iPhone in emerging pre-paid markets is greater than ever," he said.
Piper Jaffray adjusted its iPhone estimates to account for an expected October launch of the 2012 model, as previous estimates had reflected an August launch. The firm believes Apple will report shipments of 29 million iPhones in the June quarter.
Munster also noted that Apple has plenty of room for iPhone growth at home. He expressed belief that Apple's start of the smartphone market at carriers Verizon and AT&T could climb to 80 percent in the next year, up from 64 percent last quarter. Apple is also expected to benefit from the continued growth of total smartphone sales as consumers increasingly switch over from feature phones.
Analyst Katy Huberty told investors that Apple's better-than-expected results should return the focus to "upcoming product cycles and expanding China distribution."
Huberty said Apple's June quarter guidance implies shipments of 25-28M iPhones during the period. She lowered the firm's June and September quarter iPhone estimates to 27M and 26M, respectively, while noting that the sequential downtick is to be expected.
An 11 percent sequential increase in R&D expenses is a sign of "increased investments in new products," according to Huberty. "The last periods that Apple posted R&D growth this much above normal seasonality was two years prior to iPad introduction and 18 months prior to iPhone introduction," she said.
After extrapolating Apple's China revenue, the analyst projected that Apple's sales in the region could surpass the U.S. by the end of calendar 2013. Apple CEO Tim Cook revealed during a conference call on Tuesday that revenue in Greater China reached a record $7.9 billion, up three times from a year ago.
"It is mind-boggling that we can do this well," Cook said.
Apple began selling the iPhone 4S in China in January. The company also added its second carrier in the country in early March after China Telecom began selling the handset.
Brian White also issued a note on Tuesday declaring Apple as having blown through the firm's projections. "Apple fever rocks on, marching to $1,001," he wrote, referring to his 12-month price target.
He put forth the company's stock as having "meaningful upside potential" because of his expectations that Apple will release a next-generation iPhone, Apple television and "iPad mini" over the next year.
White also reiterated his note from earlier in the day that dismissed market concerns over AT&T and Verizon sales figures. AT&T revealed this week that iPhone activations had reached 4.3 million during the March quarter.
Apple CFO Peter Oppenheimer highlighted the strength of the company's overseas iPhone sales in an interview with Reuters on Tuesday. "International iPhone sales were on fire," he said.
Mark Moskowitz viewed Apple's strong performance as affirmation that "end customer affinity toward Apple's optimized products continues to intensify." "In our view, Apple continues to defy the law of large numbers with ongoing momentum across all of its major product lines," he wrote.
According to the analyst, iPhone sales last quarter support the handset's "sustainable market leadership." He believes the results should allay investor fears of an iPhone-related slowdown.
The firm reiterated its Overweight rating of Apple and its December 2012 price target of $715. "Our revenue and EPS growth estimates position Apple as the lone star in large cap tech," Moskowitz said.
Analyst Rob Cihra reported early Wednesday that Apple had managed to beat even his "aggressive" estimates for the quarter. He called Apple's "ballooning" cash hoard of $110 billion "almost obscene" ahead of the company's plans to begin paying out a dividend and buying back shares of its stock.
As for the iPhone, Cihra expects a sequential decline for in the June and September quarters, followed by sales of an estimated 49 million iPhones in the holiday season after Apple releases a new model.
iPad sales fell short of Cihra's 13 million unit estimate, but he believes the June quarter will see a boost as Apple balances out supply and demand. He expects the iPad maker will sell 15-16 million units next quarter. The analyst also said he continues to "see prospects" for a mid-cycle iPad refresh this fall that could add introduce an A6 processor and a smaller 8-inch iPad.