Apple wants to improve brightness control on OLED screens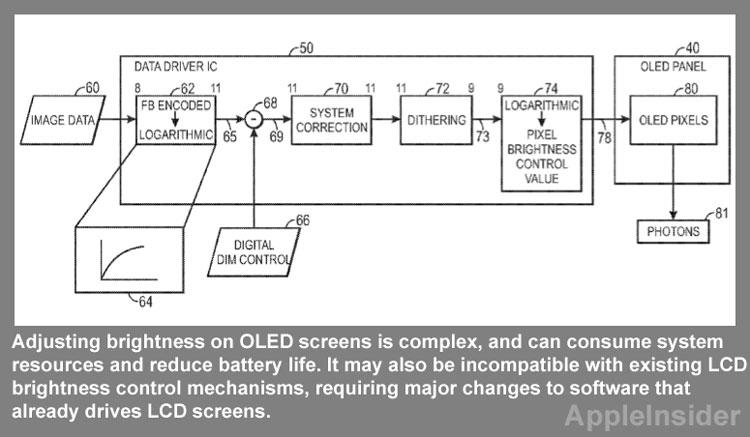 AppleInsider is supported by its audience and may earn commission as an Amazon Associate and affiliate partner on qualifying purchases. These affiliate partnerships do not influence our editorial content.
Though Apple has never released a product with an OLED screen, it continues to dabble with the technology behind the scenes, and has proposed a way of improving brightness control on organic light emitting diode displays.
One of the key advantages of OLED is that, unlike LCD, it does not employ a backlight to illuminate the screen. While this can lead to superior picture quality and improved battery life, it can also make adjusting the brightness of the screen more difficult, Apple notes in a newly published patent application discovered by AppleInsider.
The filing, entitled "OLED Driving Technique," explains that traditional LCD brightness is adjusted by simply increasing or decreasing the amount of light emitted by a backlight. But that's not possible with an OLED display, as each pixel on an OLED screen emits light individually.
That means device makers must adjust the amount of power supplied to each OLED pixel, making it a far more complex endeavor to adjust brightness than an LCD display with a dedicated backlight.
"While increasing or decreasing the amount of power may increase or decrease the amount of light emitted by each OLED, the precise amount of light emitted by each OLED may vary according to nonlinear function," Apple's filing reads. "As such, many techniques for adjusting the brightness of OLED screens have conventionally involved performing complex calculations on image data to ensure that when a brightness-adjusted image id displayed on the OLED display, each pixel displays a proper color and brightness."
In other words, the amount of light output by an individual OLED pixel varies nonlinearly with the amount of power supplied to the OLED pixel. As a result, increasing or decreasing the brightness does not directly correlate to simply increasing or decreasing the power supplied to each pixel.
Apple goes on to explain that dimming values must be extracted from image data on a system, and that data must then be converted to an analog OLED pixel brightness control signal. This complex method can consume system resources and reduce battery life, and it may also be incompatible with existing LCD brightness control mechanisms, requiring major changes to software that already drives LCD screens.
Apple's proposed solutions aim to offer "efficient brightness control" with OLED screens. One described method would take image data and transform it into a "logarithmic domain," from which a "dimming control value" could be subtracted.
"This resulting log-encoded dimmed image data may represent a darker version of the originally received image data," the filing reads. "Thereafter, a pixel of the organic light emitting diode display may be driven based at least in part on the dimmed image data."
In Apple's method, image data could be converted in the data driver of an integrated circuit connected to the OLED screen. This data would be converted from a "framebuffer encoding" gamma-corrected color space to a logarithmic value.
"From this logarithmic value, a digital dimming control value may be subtracted rather than divided," the filing states. "This dimmed logarithmic image data may be converted directly to an analog OLED pixel brightness control signal, without first being converted to a linear digital value, via a digital-to-analog converter (DAC) programmed to convert the logarithmic digital image data to the OLED pixel brightness control signal."
Apple's solution would enable simplified dimming of OLED, and would convert the data associated with adjusting brightness from digital to analog. But Apple's method would do so with fewer bits, and would be less taxing on a mobile device like an iPhone, iPad, or MacBook.
The illustrations accompanying the application specifically show a MacBook Pro as a potential device that could utilize an OLED screen, although the filing notes that Apple's method of controlling OLED brightness could be used on any device, from smartphones to television sets.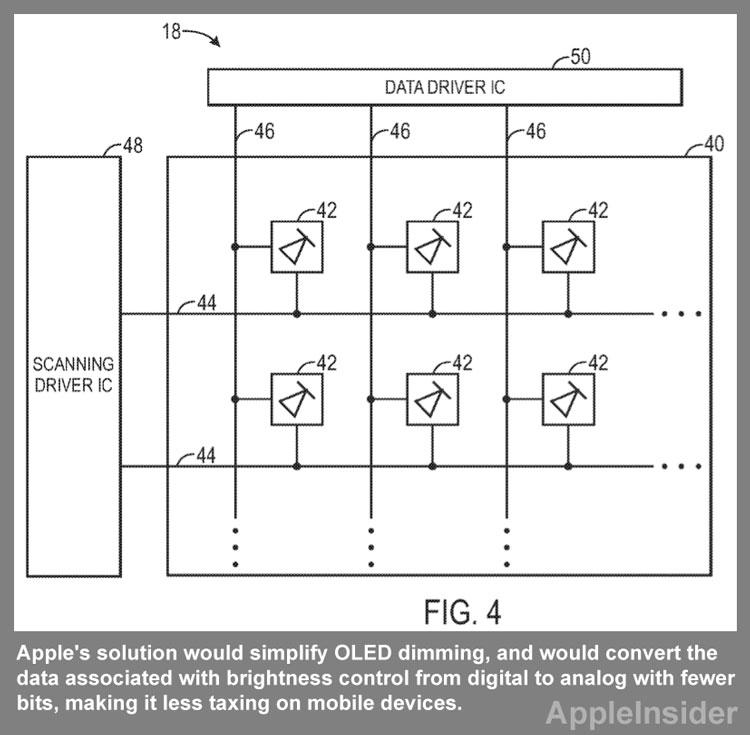 Apple has shown continued interest in OLED screens through patent filings, with one proposed invention discovered by AppleInsider last year that aimed to improve power efficiency of OLED screens. However, some industry watchers have said that OLED technology, and the production of OLED screens, are not yet mature enough to meet Apple's standards and requirements.
The latest OLED filing, published this week by the U.S. Patent and Trademark Office, was originally submitted in October of 2010. It is credited to Ulrich T. Barnhoefer and Lee Yongman.