Samsung confirms quad-core processor for next flagship Galaxy smartphone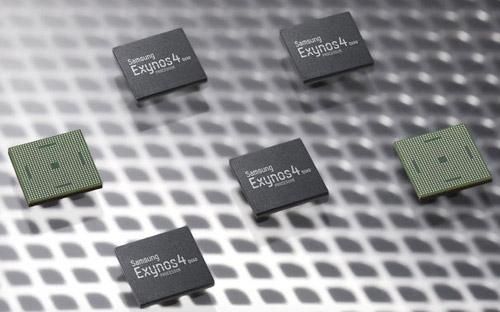 AppleInsider is supported by its audience and may earn commission as an Amazon Associate and affiliate partner on qualifying purchases. These affiliate partnerships do not influence our editorial content.
Samsung on Thursday confirmed that a new Galaxy S Smartphone set to be unveiled next week will be powered by a quad-core Exynos 4 Quad processor
The South Korean consumer electronics maker has been teasing the upcoming Galaxy device ahead of a Mobile Unpacked event in London on May 3. The handset is expected to be the third-generation of its flagship Galaxy S smartphone.
The company has released information about the new processor for the device in a bid to attract interest from other handset makers, Reuters reports.
Already in mass production, the Exynos 45 Quad chip features four of ARM's Cortex A9 cores. Clocked at 1.4GHz, the processor will be about "twice as powerful while using 20 percent less power," MacNN noted the company as saying. By switching to a 32nm process, Samsung managed to build the quad-core chip without making it bigger than existing dual-core solutions.
"Samsung said it is sampling the chips to major handset makers as it seeks to expand its customer base from Apple Inc to its handset rivals such as Nokia, HTC and Motorola," said Reuters. Though the company does manufacture microprocessors for Apple, chips bound for iOS devices are of Apple's own design.
Samsung's Exynos 4 Quad chip, via MacNN
Samsung's next-generation Galaxy S smartphone will likely be a top competitor against Apple's iPhone. Hana Daetoo analyst Lee Ka-keun predicted earlier this month that Samsung and Apple will "engage in a full-fledged war" once both companies have released new smartphone models for the year.
Market research firms have placed the two companies neck-and-neck in their estimates of the world's largest smartphone vendors. Apple took the top spot during the holiday 2011 quarter with breakout sales of the iPhone 4S. The company revealed on Tuesday that it had sold 35 million iPhones in the March quarter.
For its part, Samsung has stopped providing sales figures for its smartphone division, though it has announced record profit for the first quarter of calendar 2012.
Apple is expected to counter its rivals with its own quad-core A-series processor later this year. After the company released the third-generation iPad with a dual-core A5X processor, some have suggested that a quad-core A6 will power the 2012 iPhone, which is rumored to arrive in October.