Apple adds OpenStreetMap attribution to iPhoto for iOS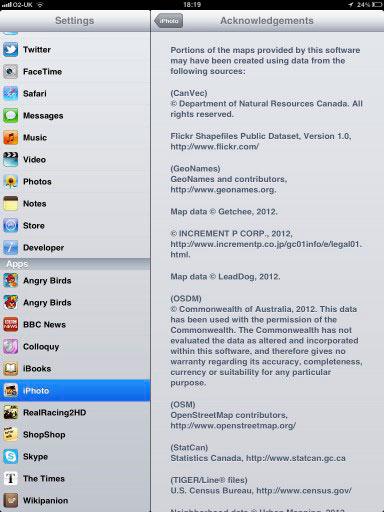 AppleInsider is supported by its audience and may earn commission as an Amazon Associate and affiliate partner on qualifying purchases. These affiliate partnerships do not influence our editorial content.
An update to the iPhoto application for iOS has added proper attribution to the OpenStreetMap Foundation for mapping data included in the software.
When iPhoto for iOS was released in March, the software lacked required attribution to the OpenStreetMap Foundation. The organization highlighted Apple's switch to OSM, and the missing necessary credit, in an official company blog post.
But this week's update to iPhoto rectified the error, and viewing the software's "Acknowledgements" in the iOS Settings application shows the proper attribution.
The change was made after OpenStreetMap reached out to Apple directly through the foundation, and also through a third-party developer, according to Talking Points Memo. Richard Fairhurst, a board member at the foundation, said he believes it was the involvement of an iOS developer, who is also one of the group's volunteer mappers, that led to Apple adding the attribution.
"Obviously we'd rather that Apple had attributed right from the start, but nonetheless this is a big step forward," Fairhurst said. "If the biggest computer company in the world, one with a perfectionist instinct, feels that OpenStreetMap data meets its needs and is happy to publicly attribute us, then that's a great vote of confidence in our community's work."
Once iPhoto for iOS was released, users immediately began to notice that the software uses a different style of map that isn't credited to anyone. That's a change from all of Apple's previous iOS devices, which have relied on mapping data from Google Maps.
The shift could be a sign of things to come, as Apple is expected to be developing its own mapping solutions in a transition away from Google Maps, after the company acquired a number of mapping companies. In addition, last April Apple publicly admitted it is building a "crowd-sourced traffic" service for iPhone users.