Walmart's $74 iPhone 4S discount was a 'pricing error' [u]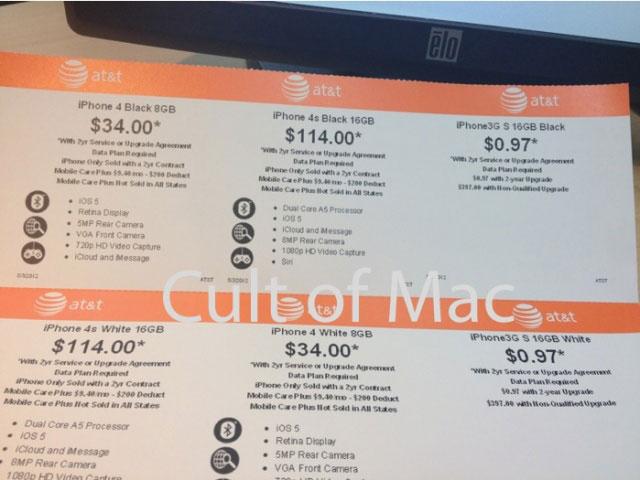 Walmart, the largest retailer in the U.S., dropped the price of Apple's iPhone 4S with a two-year AT&T contract by as much as $74 at some locations, but the retailer later explained that the reductions were a "pricing error."
The price drop was first discovered at a Walmart store in Edmond, Okla., by Cult of Mac. There, both the black and white 16-gigabyte AT&T iPhone 4S is on sale for $114, down $74 from Walmart's usual $188 price.
In addition, the iPhone 4 was also reduced in price at the big-box retailer's location. There customers can get both the black and white 8-gigabyte iPhone 4 for just $34, on sale from Walmart's usual $88 price with a new two-year contract.
The sale is not reflected on Walmart's website, but it isn't confined to just one store. The Verge also found that one store in Austin, Tex., was also offering the iPhone 4S for $114, though none of the stores they spoke with were offering the iPhone 4 for less than $88.
Update: In a statement to CNet, Walmart said the price change was the result of a "pricing error in limited stores." The issue has since "been addressed and normal prices are in effect."
Even without the sale in effect, Walmart's low-margin business model allows the retailer to sell Apple's iPhone at prices lower than the suggested retail price. The 16-gigabyte iPhone 4S has an MSRP of $199 with a two-year contract, while the 8-gigabyte iPhone 4 regularly costs $99.
One study released in March revealed that Walmart does not play a significant role in iPhone sales. Outside of direct carrier sales, Apple sells 15 percent of iPhones in the U.S., while Best Buy accounts for 13 percent. The collective group of Walmart, Target, Radio Shack and Sam's Club accounts for just 3 percent of domestic iPhone sales.
Last quarter, Apple sold 35.1 million iPhones to start 2012, a higher-than-expected sum driven largely by international expansion of the iPhone 4S. Still, in the U.S., Apple's iPhone was the most popular smartphone at AT&T, Verizon and Sprint, the nation's three largest wireless carriers.