Intel looks to build ultra-efficient mobile chips Apple 'can't ignore'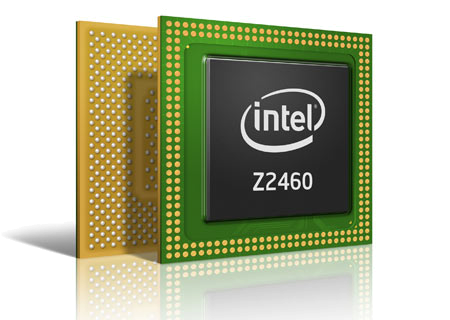 Computing giant Intel is once again looking to gain ground in the mobile device market currently dominated by low-power ARM-based processors, saying that it plans to ply its substantial faculties toward currying favor with major player Apple.
During Intel's annual investor day on Thursday, CEO Paul Otellini outlined the company's plan to leverage its multi-billion-dollar chip fabrication plants, thousands of developers and industry sway to catch up in the lucrative mobile device sector, reports Forbes.
"Our job is to ensure our silicon is so compelling, in terms of running the Mac better or being a better iPad device, that as they make those decisions they can't ignore us," Otellini said.
Mobile devices like Apple's market-leading iPad are quickly devouring the PC market, which saw a nearly 6 percent drop in worldwide shipments in the fourth quarter of 2011. Apple Chief Executive Tim Cook said in January that he expects the tablet market to one day outnumber PCs, and it seems that Intel tends to agree given its realigned efforts.
Currently, Apple relies on Intel processors to power its Mac line of computers following a switch away from IBM's PowerPC platform in 2005. For its iDevice products, which far outsell Macs, the Cupertino-based tech monolith uses proprietary ARM-based chips fabricated by Samsung.
Intel has been noticeably absent from the mobile processor space, though the recent acquisition of wireless chip maker Infineon could give the Santa Clara-based company a leg-up in offering integrated mobile platform solutions. Since the purchase, Intel has shipped 500 million wireless chipsets. Also of note are the thousands of programmers employed by Intel who can help tune mobile device software to run efficiently on x86 processors. It was this army of software engineers that helped Apple abandon PowerPC.
Intel's Atom "Medfield" chipset is bound for use Motorola and Lenovo smartphones.
Intel reportedly inked agreements to supply Motorola and Lenovo with Atom "Medfield" processors for use in upcoming products, and more OEMs are supposedly in line to implement the new chipsets. According to Co-Manager of Intel's Mobile Communications Group Mike Bell, the new manufacturing process used to build the chips is superior to offerings from the competition.
"What the process technology does is gives us better performance, at better power at better size," Bell said. "We think this is a fundamental advantage that we have."
While Apple's newest A5 and A5X processor family is built on the 32nm and 45nm processes, respectively, Intel is developing a more efficient 22nm component slated for release in 2013. The firm expects to be building parts using a 14nm process by 2014.
Not surprisingly, Intel was said to have been interested in producing Apple's A-series silicon last year in an attempt to marginalize Samsung's share of the fabrication business.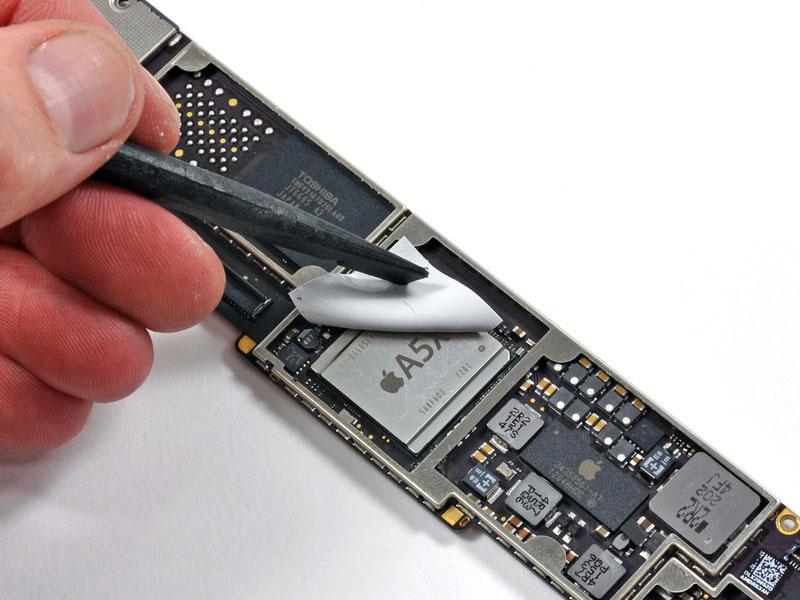 Apple's A5X chip found in the new iPad. | Source: iFixit
The two companies remain strange bedfellows as the chip maker provides parts for Mac computers while pushing its own competing Ultrabook thin-and-light platform. An upcoming MacBook refresh is expected to feature Intel's "Ivy Bridge" chipset with new processors entering the Core i5 and Core i7 families. Rumors circulated earlier this year that said Apple was looking to use its own ARM processors in upcoming iterations of the MacBook, especially in power-critical applications like the thin-and-light MacBook Air, but those whispered promises have yet to materialize.
It remains to be seen what effects Intel's renewed efforts in mobile will yield, though it is unlikely that Apple will turn away from its own mobile chip-making business which by some estimates could become the world's largest by the end of 2012.