Greenpeace projects giant images onto Apple HQ in protest for cleaner iCloud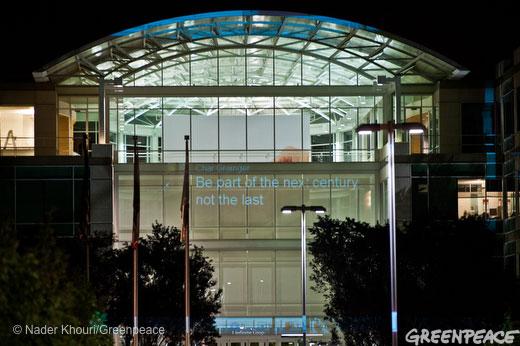 AppleInsider may earn an affiliate commission on purchases made through links on our site.
Greenpeace took its push for a "clean" iCloud to Apple's Cupertino, Calif., campus this week, projecting images onto the main building of its corporate headquarters.
In addition to projecting messages of support from Twitter and Facebook users onto the side of the building, Greenpeace activists also barricaded themselves inside an eight-foot-tall, ten-foot-wide "survival device" that has previously been used to prevent Arctic drilling.
The demonstration also featured four Greenpeace members dressed as iPhones, with fully functional screens across their torsos that displayed messages from supporters via Facebook and Twitter.
"Apple's executives have thus far ignored the hundreds of thousands of people asking them to use their influence for good by building a cloud powered by renewable energy," Greenpeace USA Executive Director Phil Radford said. "As Apple's customers, we love our iPhones and iPads, but we don't want to use an iCloud fueled by the smog of dirty coal pollution."
The organization said more than 215,000 people have signed its "Clean Our Cloud" petition, which asks Apple to power the iCloud service with clean, renewable energy. Greenpeace has taken issue with the fact that Apple's North Carolina facility uses some coal-fired power plants from Duke Energy.
Tuesday's demonstration was just the latest in a series from Greenpeace in an effort to promote is "How Clean is Your Cloud?" report, which was issued in April. That report accused Apple of lagging behind other technology companies, such as Facebook and Google, in utilizing environmentally friendly power for its cloud-based services.
But Apple rejected the estimates in Greenpeace's study related to its Maiden, N.C., data center. Apple's own figures state that renewable energy will provide more than 50 percent of the center's power needs than the environmental advocacy group projected.
Apple believes that its Maiden data center will be the greenest facility of its kind ever built. It will be joined next year by another facility in Prineville, Ore., that will rely on 100 percent renewable energy.
Last month, Greenpeace members staged a protest on the roof of Apple's European headquarters in Cork, Ireland, and placed signs on the building's windows to spell out the words "clean our cloud." The event was coordinated with similar demonstrations held in Turkey and Luxembourg.