China Mobile 'actively talking' to Apple about iPhone cooperation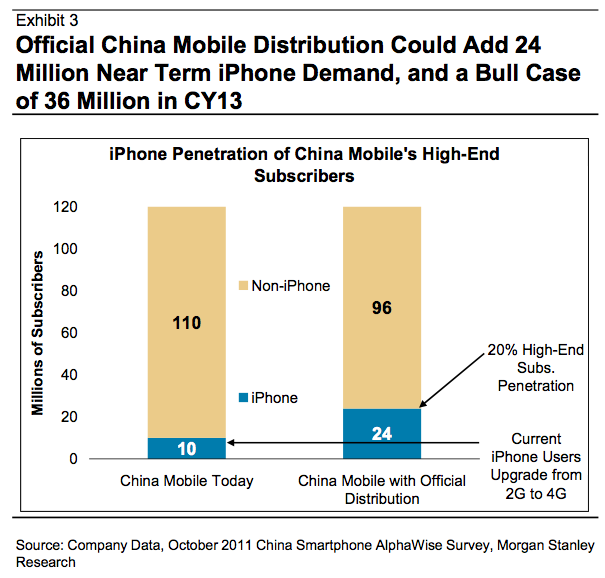 China Mobile revealed on Wednesday that it is in ongoing negotiations with Apple to bring the iPhone to its network.
Chairman Xi Guohua said during a shareholders meeting that the company is "actively talking to Apple" on how the two companies can cooperate, Reuters reports.
"I can't give you too many details, but I'd like to repeat that both sides do hope to boost our cooperation," he added
Xi was responding to questions about when the world's largest carrier would begin offering the iPhone to its subscribers. As of earlier this year, China Mobile, which had 667 million subscribers as of March, is now the only carrier in China not selling Apple's handset.
Demand for the iPhone on China Mobile is expected to be quite high. Despite the lack of official sales of the device, the company has more than 15 million iPhone users on its network. One analyst projected earlier this year that China Unicom could sell 24 million iPhones in 2013.
Rival China Unicom was Apple's first carrier partner in the country. The second-place wireless operator began selling the iPhone 3GS in 2009. Though sales got off to a slow start, the company said in March that its partnership with Apple is now producing "better-than-expected results." China Telecom initiated sales of the iPhone 4S in March, attracting 200,000 preorders.
Even without China Mobile, Apple is seeing spectacular growth in iPhone sales throughout Greater China. Unit sales of the smartphone in the March 2012 quarter were five times those of the previous year.
According to one report from February, China Mobile officials are "aggressively negotiating" with Apple. One of the key obstacles, however, is the fact that the carrier operates a home-grown 3G wireless network that would require a separate device.
Financial analysts have speculated that Apple could wait until its next-generation iPhone to sign on with China Mobile. Morgan Stanley's Katy Huberty believes Apple is likely to make use of a Qualcomm quad-mode baseband chip that could make the iPhone compatible with "all 3G and LTE network flavors." For its part, China Mobile is in the midst of tests for its own TD-LTE network. Initial testing of the 4G has been completed, and the carrier expects to wrap up the next stage of tests by June 2013.