Dell feeling iPad pressure after soft notebook sales, earnings miss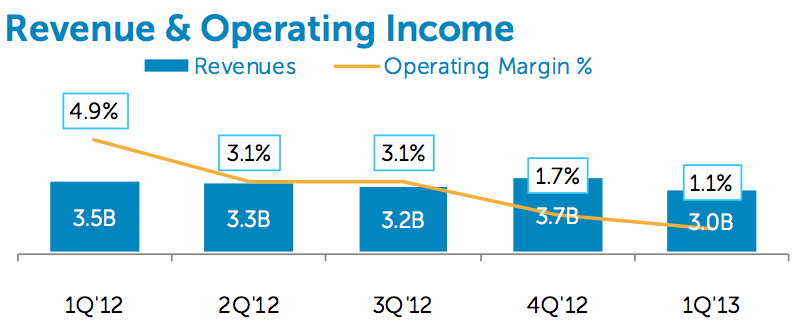 Though it didn't mention the iPad by name, PC maker Dell did say that "alternative mobile computing devices" had an impact on its sales that contributed to poor performance last quarter.
Dell Chief Financial Officer Brian T. Gladden admitted during the company's first-quarter 2013 earnings conference call on Tuesday that its results "were mixed."
"We fell short of our own expectations," he said, according to a transcript by Seeking Alpha. "There were some areas where our execution was not as expected, and there also are some market dynamics that created some headwinds for us."
The company reported a 4 percent drop in revenue to $14.4 billion and profit of 43 cents a share. The average analyst estimate had expected $14.9 billion in revenue and 46 cents a share profit, The New York Times reports.
Dell struggled with its notebook business as it contracted 10 percent over the quarter. Consumer notebook revenue in particular fell 15 percent. Stephen J. Felice, the chief commercial officer for the company, said that the consumer business was Dell's "biggest challenge in the quarter."
Revenues and operating margin for Dell's Consumer segment | Source: Dell
Gladden said "a more aggressive competitive environment" contributed to the decline in notebook sales. He attributed the tougher environment to "channel inventory rebuilding" as a result of constrained hard drive supplies in recent quarters.
"In addition, we're seeing more consumer IT spending diverted to alternative mobile computing devices," he added. The executive didn't elaborate on what exactly the "alternative" devices were, but analysts and pundits were quick to point to Apple's iPad as the most-likely culprit.
Responding to Dell's worse-than-expected quarter and tentative guidance, investment bank Morgan Stanley lowered its fiscal 2013 revenue growth and earnings per share estimates to -3 percent and $1.98, respectively, down from 0.8 percent and $2.10 previously. Analyst Katy Huberty suggested that "tablet cannibalization" could further damage Dell as it has begun to spread to education and business sectors. Huberty predicted last April that, among PC makers, Dell was exposed to "the greatest risk" from the uptake of the iPad.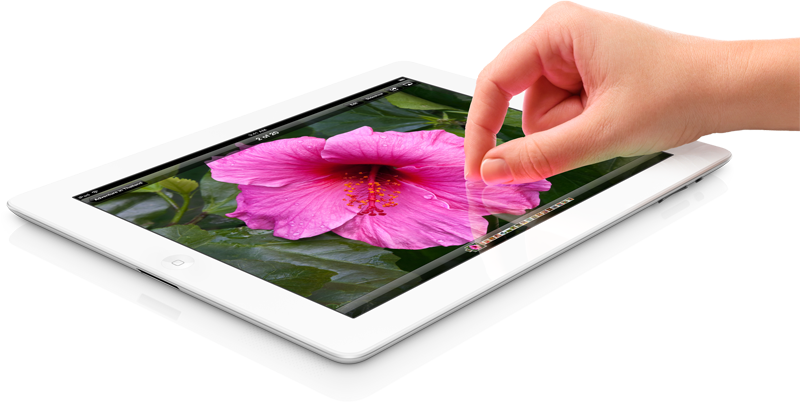 Evercore also trimmed its earnings estimates for Dell in a note to investors early Wednesday on suspicion that the company will experience continued "PC erosion."
Felice himself hinted that preference for new form factor devices had leaked into sectors other than the consumer market. "We're also seeing some IT spending prioritized to purchase other mobile devices. Now this is mostly a consumer dynamic, but there is clearly some impact in areas of commercial as well," he said.
Dell was optimistic about the release of Microsoft's Windows 8 operating system later this year, but it cautioned that it didn't expect "massive adoption" of the OS by corporations early on. Founder and CEO Michael Dell did, however, promise that the company would have a "full complement of products" at launch.
At the start of this year, Dell promised to enter the tablet market "in a bigger way toward the end of the year." Felice said the company was being "careful" about how it entered and was planning to develop for both Windows 8 and Android.
Dell's admission that the growth in other devices is affecting its notebook business came on the same day as new market research data that highlighted Apple's continued dominance in the "mobile PC" market. NPD revealed on Tuesday its estimate that Apple's mobile PC business, which includes notebooks and the iPad, grew 118 percent year over year. The iPad maker took the top spot among mobile PC makers in the first quarter of 2012 with an estimated 17.2 million units, while Dell came in fifth with shipments of 5.6 million devices.
Shares of Dell fell 12 percent in after-hours trading after the news. Dell's quarterly performance prompted comparisons between the changing tide of fortune for both Dell and Apple. Michael Dell famously said in 1997 that he would shut Apple down and "give the money back to the shareholders." Late Apple co-founder Steve Jobs pointed out in 1996 that his rival "wasn't perfect at predicting the future" when Apple's market cap passed Dell's. As of the close of market on Tuesday, Apple's market capitalization was nearly 20 times that of its rival.