Fears of iPad cannibalization drive PC estimates downward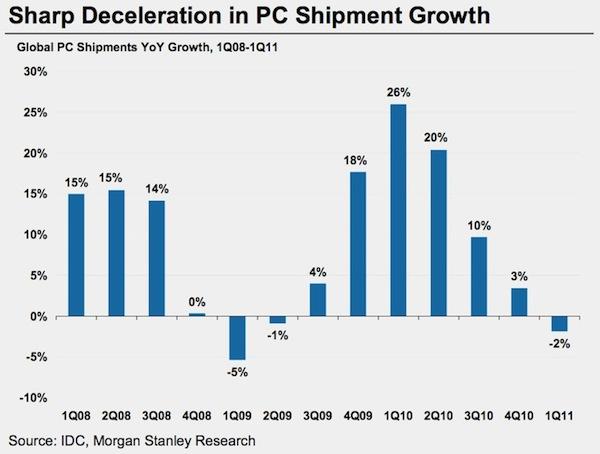 Slowing shipments of PCs have prompted some analysts to revise their 2011 PC shipment estimates downward over concerns that Apple's iPad is eating into sales of PCs.
In a note issued to clients Thursday, Morgan Stanley analyst Katy Huberty revised her 2011 PC shipment growth forecast to two percent, down from seven percent, citing weakened demand caused by tablets. Huberty also attributed the decline to considerable slowing in commercial and emerging market consumer demand for PCs.
In light of the revised estimates, Huberty lowered her revenue forecasts for HP, Dell and Seagate by one to two percent, while maintaining her estimates for Apple due to "strong Mac share gains and unit upside" in the first quarter of calendar 2011.
According to Huberty, Dell is exposed to "the greatest risk" due to decelerating commercial demand and margin risk from component costs.
Huberty lowered her consumer PC shipment estimate from 2 percent growth to a 1 percent decline and dropped commercial PC unit growth projections for 2011 from 13 percent to 5 percent.
Morgan Stanley's tablet forecast remained unchanged at 55 million units in 2011 and 85 million units in 2012. Huberty estimates a tablet cannibalization rate of 29 percent in 2011, noting that when PCs and tablets are considered together, total shipments are expected to grow by 13 percent in 2011, in-line with historical PC growth trends.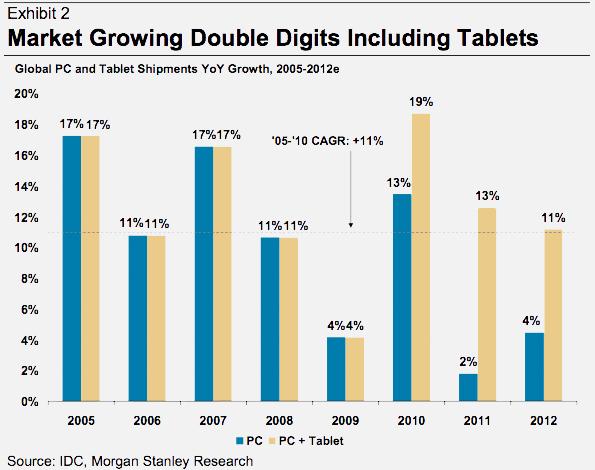 Also on Thursday, analyst Brian White of Ticonderoga Seurities warned of slowdown in the Electronics Manufacturing Services industry, as Printed Circuit Board book-to-bill ratios have flatlined at their lowest level in over two years. "Our stance remains that the PCB book-to-bill ratio is in a bottoming phase, and we do not expect a meaningful downtick from current levels; however, we also do not expect a meaningful rebound as in past recoveries," said White.
Microsoft's struggles are also seen as an indication of slowing PC sales. For the first time in recent memory, Apple beat Microsoft in both revenue and profit for the just finished quarter.
Though the Redmond, Wash., software giant's profits grew past Wall Street expectations year over year, analysts quickly seized on the news that sales of netbooks fell 40 percent last quarter and Windows revenue declined year over year for the second-straight quarter as indicators of slowing PC growth.
The dramatic drop in netbook sales may indicate that the iPad has substantially eaten into the profits of low-end laptops. Given that Apple is having trouble meeting demand for the iPad 2, analysts worry that sales of PCs, especially netbooks, will decline further as Apple ramps up production of the iPad.
Earlier this month, research group IDC released first quarter sales figures for the PC market that suggest the PC market dropped 10.7 percent while U.S. Mac sales grew 9.6 percent.
Netbook maker Acer appears to have been hit especially hard by the rise of the iPad. According to IDC, Acer PC shipments declined 42 percent year over year in the first quarter.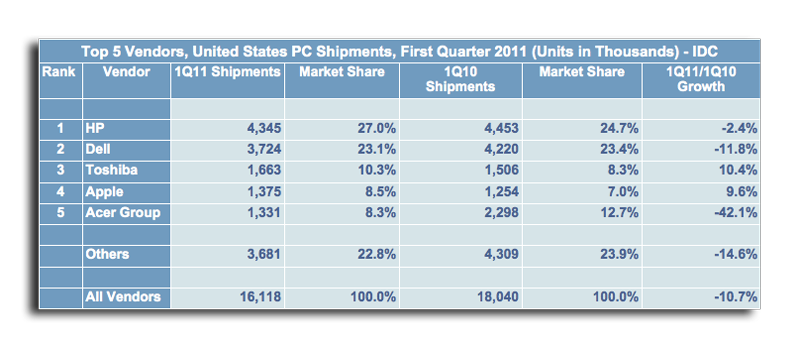 Gartner also sees U.S. PC sales declining, though the research group's estimate of a 6.1 percent contraction is less of a loss than IDC's 10.7 percent figure. Also of note, Gartner sees Apple's iPad continuing to dominate the tablet market through at least 2015.