US Mac sales grow 9.6% in Q1 2011 as rest of market drops 10.7%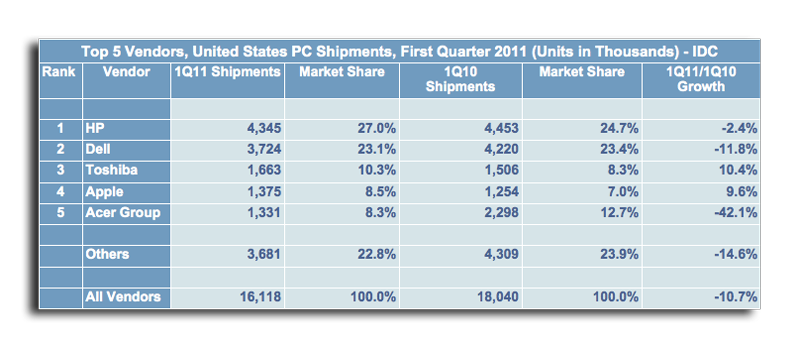 AppleInsider is supported by its audience and may earn commission as an Amazon Associate and affiliate partner on qualifying purchases. These affiliate partnerships do not influence our editorial content.
Apple's line of Mac computers saw great success in the U.S. in the first quarter of calendar 2011, growing 9.6 from 2010, while the rest of the American market fell 10.7 percent and netbook maker Acer tumbled 42.1 percent.
Apple earned an 8.5 percent total share of the U.S. PC market, selling an estimated 1.375 million units in the first quarter of 2011, according to research group IDC. Apple's market share was well up from the 7 percent it saw in the first quarter of 2010.
The 9.6 percent growth from Apple well outpaced the market average, though rival Toshiba grew even faster, at 10.4 percent year over year. Apple finished just behind Toshiba, in fourth place in the U.S.
Sales for the top company, HP, slid 2.4 percent from 2010, while Dell sunk 11.8 percent. HP represented 27 percent of sales, while Dell took 23.1 percent.
Coming in at fifth, Acer tumbled a whopping 42.1 percent, garnering an 8.3 percent share of the market with 1.331 million units sold.
Acer and its line of low-cost, low-power netbooks have struggled since Apple introduced the iPad last year. In March, Acer revealed its plans to "overhaul operations" and focus on profit margins rather than market share.
Worldwide, PC sales were down 3.2 percent year over year. HP and Dell were No. 1 and No. 2, respectively as well, though both saw their total sales dip from a year ago. HP commanded 18.9 percent of the market, while Dell took 12.8 percent in the first quarter of calendar 2011.
In the global market, Acer took third, and its 15.8 percent its drop in sales was not as drastic as seen in the U.S. Lenovo came in fourth, garnering 10.1 percent of sales, while Toshiba was fifth at 6 percent.
"The U.S. and worldwide PC market continues to work through a difficult era that we expect will continue into next quarter, but will start to improve in the second half of the year," said Bob O'Donnell, program vice president with Clients and Displays at IDC "Slower than expected commercial growth in the first quarter failed to offset the ongoing challenges in the consumer market. While it's tempting to blame the decline completely on the growth of media tablets, we believe other factors, including extended PC lifetimes and the lack of compelling new PC experiences, played equally significant roles."