Rumor: Ex-Apple exec Tony Fadell's Nest thermostat to be sold in Apple Stores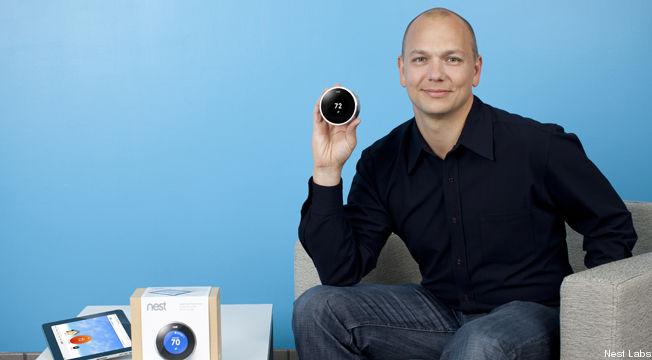 Ex-Apple executive Tony Fadell, whom many consider to be the "grandfather of the iPod," will reportedly begin selling his Nest learning thermostat in Apple Retail Stores sometime in the near future.
According to blog iLounge, Apple will reportedly stock the Nest thermostat at its brick-and-mortar outlets in what would be an interesting addition to the stores' current product lineup.
If true, the move to carry a third-party item not directly associated with an Apple product, such as iPhone cases, speakers and other accessories, will be a rare exception to the retail outlets' traditional stock list.
Besides having an iPhone app and being created by former vice president of Apple's iPod division Tony Fadell, the Nest learning thermostat doesn't have any ties with the Cupertino-based company. The device itself is the first product from startup Nest Labs, which was founded by Fadell after he left Apple in 2010.
Released in late 2011, Nest analyzes a user's temperature settings and operating habits to help maximize energy savings. The thermostat mates a custom operating system with slick design elements, an advanced wireless controls and a user-friendly UI. HVAC operation is performed either on-unit or over a Wi-Fi network from a smartphone.
Tony Fadell shows off the Nest learning thermostat. | Source: Nest Labs
Currently, the unit is offered through big-box home improvement retailer Lowe's and Nest's online store. The Nest thermostat will reportedly sell for $249 if and when Apple starts stocking the unit.