Tim Cook's visit to Washington opens doors to Congress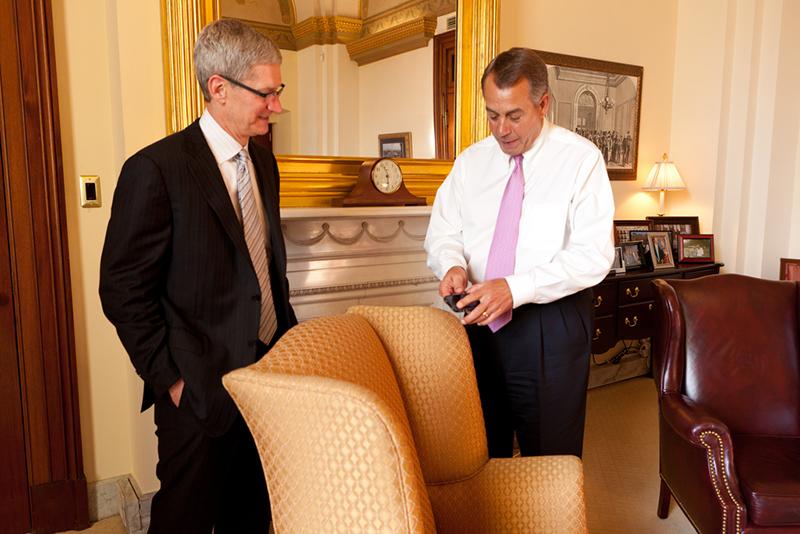 AppleInsider may earn an affiliate commission on purchases made through links on our site.
When Apple CEO Tim Cook visited the nation's capitol he broke Apple's unwritten rule of not mixing with politicians and met with a handful of Senate and House leaders for short introductory sit-downs.
According to aides briefed on the Capitol Hill meetings, the reason for Cook's visit was to show key policymakers that they have an open line of communication to the Apple executive, reports Fortune.
As reported on May 15, Cook met with House Speaker John Boehner (R-Ohio) as well as Senate Majority Leader Harry Reid (D-Nev.) and Senate Minority Leader Mitch McConnell (R-Ky.). House Minority Leader Nancy Pelosi (D-Calif.) was on an official trip to Afghanistan at the time and couldn't meet with the Apple CEO.
The meet-and-greets were largely seen as introductions and no serious issues were mentioned, but it seems Cook's time in Washington yielded positive results with the politicos. The topics discussed were superficial at best, for example Senator McConnell reportedly spoke of how his iPad's glass, and that of the iPhone 4 and 4S, is manufactured in the Corning plant in his home state of Kentucky.
"It was an act of opening up a line of communication, but it was a first step in what hopefully will be a growing relationship," an aide said. "They didn't become best buds in one meeting."
An industry source claims that the discussions were conducted in typical Apple fashion, saying "they were quiet and focused. There was no public statement, no press conference, no hoopla, just like the company, which is focused on product design and end results." The source went on to say that Cook has a strong personal interest in government policy issues and "recognizes the role an engaged CEO can play in making a difference on those policy priorities."
House Speaker John Boehner discusses his iPhone with Apple CEO Tim Cook. | Source: Speaker.gov
Cook may be looking to change the level of engagement Apple shares with Congress, though as it stands the company trails far behind competing tech companies in money spent on lobbying. The iPad maker put $500,000 towards political advocacy in the first quarter of 2012, while Google reportedly earmarked ten times that amount over the same period. Apple also lacks a political action committee to back lawmakers' campaign funds, something that is de rigeur for most large corporations in America.
A sign that Apple is changing the way it thinks about government in general was the company's willingness to cooperate with lawmakers over recent smartphone privacy concerns. In early March, Sen. Charles Schumer was granted a request to meet with Apple representatives over iOS apps that had the ability to upload geo-tagged photos in the background as well as data from a user's address book. In another instance, Apple responded to a letter from Reps. Henry Waxman (D-Calif.) and G.K. Butterfield (D-N.C.) regarding the aforementioned contacts upload controversy with a five-page letter of its own.