Apple has 'locked down' RF suppliers for next iPhone, may move to advanced filter tech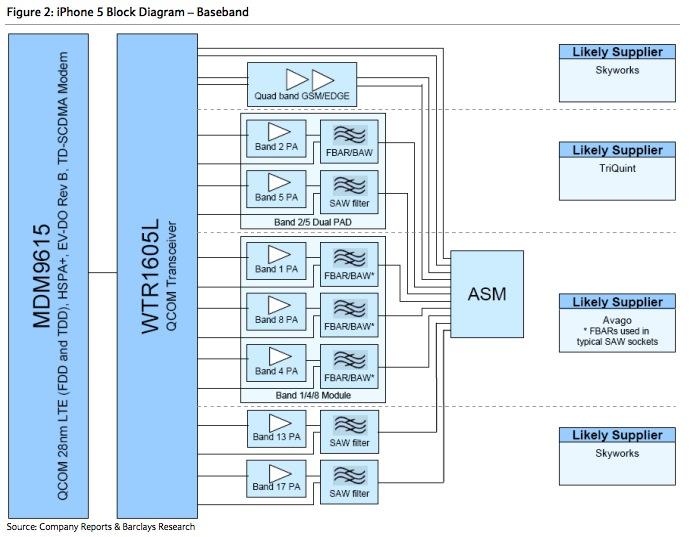 An industry analysis of the U.S. semi-conductor market released on Thursday claims that Apple has already decided which companies will supply the important radio chips in the next-generation iPhone, and one of the choices suggest that the handset will use advanced RF filtering technology.
Analysts at Barclays see the general internal architecture of the next iPhone as remaining largely similar to the firm's most recent report, but adjusted what they believe to be the likely suppliers for some components.
Massachusetts-based analog semiconductor maker Skyworks is seen as the biggest incremental winner and will provide the Band 13 and 17 LTE power amplifiers ($0.75 x 2), the 2G/EDGE power amplifier module ($1.00) and the WLAN PA/low noise amplifier ($0.50) in the upcoming iPhone. Together, the three chips account for $3.00 in circuitry compared to the company's $1.20 in components seen in the current iPhone 4S.
Perhaps the most surprising discovery is the possibility that Apple will replace current surface acoustic wave (SAW) RF filters with film bulk acoustic resonators (FBARs). SAW devices have been used in past iterations of the iPhone, including the iPhone 4S, and Apple was expected to continue using the parts in the next-gen handset. Recent breakthroughs in FBAR manufacturing have brought down the size and raised unit efficiency to a level that makes it a prime candidate for a smartphone maker looking to squeeze the most circuitry into an increasingly tight area.
Avago Technologies, a spinoff company that began life as HP's components division in the early 1960's, is pegged as an iPhone RF filter supplier and has recently made significant additions to its FBAR capacity, allocating tens of millions of dollars on the component. This is a strong signal that the company is planning on a substantial ramp up in part production in the near future, possibly for Apple's next handset. Avago believes that it can scale down FBARs without degrading performance, which would change the size, price and performance metrics that previously limited the devices to certain bandwidths.
With the new FBAR chips, which would be filtering on two 3G Bands, Avago could bump its piece of the iPhone component pie to $3.00 compared to the $2.25 seen in the 4S.
Usual players TriQuint and RF Micro Devices are also seen as supplying integral components, including WLAN PA/LNA units and antenna tuning ICs.