Apple, Samsung expected to control 52% of smartphone sales through 2013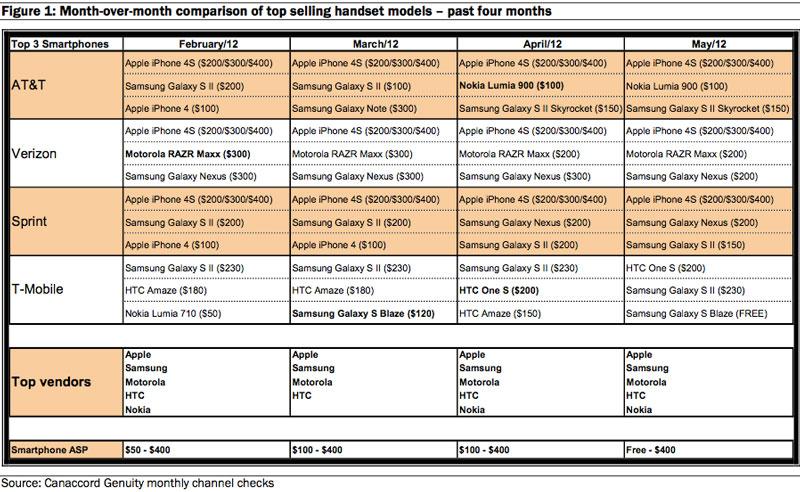 AppleInsider may earn an affiliate commission on purchases made through links on our site.
Together, Apple and Samsung will represent more than half of all global smartphone sales through the year 2013, according to a new projection.
Analyst Michael Walkley with Canaccord Genuity said in a note to investors on Tuesday that he sees Apple accounting for 21 percent of smartphone sales in 2013, with total iPhone unit sales of 204.1 million. Samsung is projected to have a 31.3 percent share in 2013, on sales of 304.4 million smartphones.
Together, that would place both Apple and Samsung in control of 52.3 percent of the total global smartphone market. That's an improvement from the 49.7 percent both companies are expected to control through the end of calendar 2012.
Walkley noted that as of May 1, Apple and Samsung combined for 47.6 percent of smartphone unit shares worldwide. He believes the two companies, despite controlling less than half the market, accounted for a whopping 99 percent of industry profits.
In fact, Apple was found in May to earn a commanding 73 percent of mobile industry profits with just an 8.8 percent total share, when both smartphones and traditional "feature" phones are counted.
Walkley also revealed on Tuesday that in the month of May, Apple's iPhone 4S was the top selling smartphone at all three major carriers where it is available in the U.S.: AT&T, Verizon and Sprint. In fact, the iPhone 4S has been the top selling smartphone at all three carriers throughout 2012.
Not among the top three smartphones among Apple's carrier partners in the month of May was the iPhone 4. The company's previous-generation smartphone, first released in 2010 and now available for $99 with a two-year contract, was the No.3 selling smartphone at Sprint in March, and took the No. 3 spot at both Sprint and AT&T in February.