Apple still expected to retire 17-inch MacBook Pro in 2012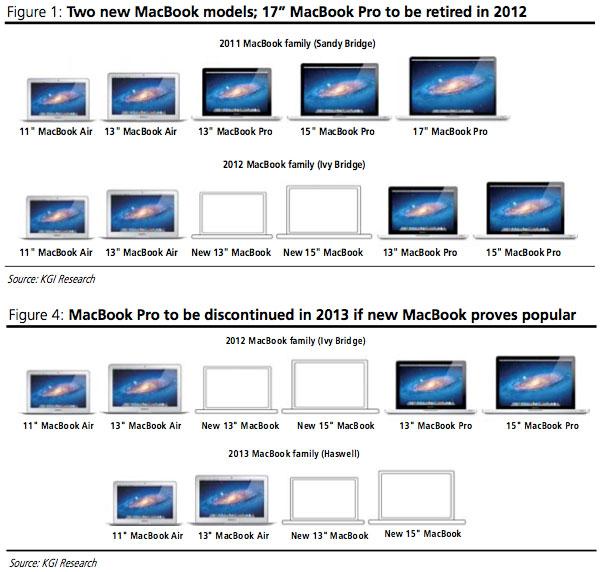 With a new MacBook lineup said to be on the way, Apple is expected to discontinue its 17-inch MacBook Pro this year, and might even ax the Pro lineup entirely in favor of the "new MacBook" in 2013.
Analyst Ming-Chi Kuo with KGI said in a research note shared with AppleInsider on Friday that Apple is still planning to retire the 17-inch MacBook Pro in 2012. He expects only the 13- and 15-inch MacBook Pros will receive updates from Apple this month.
A discontinuation of the 17-inch MacBook Pro is expected to be part of a major shakeup in Apple's notebook lineup. Kuo also indicated on Friday that Apple is apparently planning to introduce an entirely new MacBook lineup next week, with new models positioned between the MacBook Air and MacBook Pro sized at 13 and 15 inches.
The 17-inch MacBook Pro would be a logical choice for Apple to retire, as the premium professional notebook only accounted for 1.7 percent of the company's notebook sales in the first quarter of 2012. The most popular option, Kuo said, was the 13-inch MacBook Pro, which took 46.9 percent of sales, followed by an 18.1 percent share for the 13-inch MacBook Air, and 16 percent for the 15-inch MacBook Pro.
Kuo believes that Apple even plans to go beyond the 17-inch model and potentially discontinue the entire MacBook Pro lineup, replacing it with new 13- and 15-inch notebooks he has referred to as simply the "new MacBook." If the new MacBook proves popular enough, he thinks Apple could reduce its notebook lineup to just four products: the 11- and 13-inch MacBook Airs, and the new 13- and 15-inch MacBooks.
But given a "high sales weighting" for the MacBook Pro, Kuo admitted it would be "difficult" for Apple to quickly discontinue the MacBook Pro. He expects the product will remain on the shelves until 2013, at which point Apple is seen as "likely" to reduce supply of the MacBook Pro to help boost sales of the new MacBook.
The new MacBook series is expected to be a merging of the MacBook Air and MacBook Pro lineups. Apple's new laptops are believed to feature a thinner design and will lack optical disc drives, but will offer more power than the MacBook Air.