Apple, China Unicom negotiating extended partnership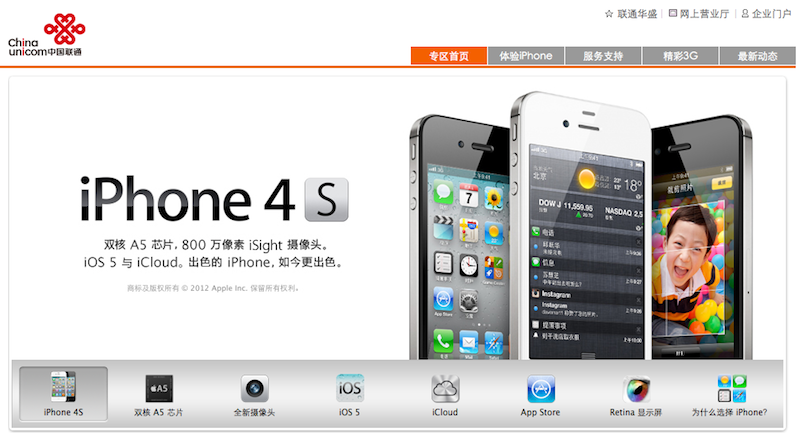 AppleInsider is supported by its audience and may earn commission as an Amazon Associate and affiliate partner on qualifying purchases. These affiliate partnerships do not influence our editorial content.
As Apple and China Unicom reach the end of a three-year agreement later this month, China Unicom's president has expressed confidence that the two companies will agree upon and sign a new contract.
In just three years, Apple has risen to become China Unicom's largest handset partner in terms of devices shipped. The wireless operator's president Lu Yimin recently revealed that his company is in currently in talks with Apple to extend their partnership, according to a note from Marbridge Consulting (via The Next Web).
The report noted the executive as saying that both companies were "extremely satisfied" with their relationship. Earlier this year, China Unicom's executive director Li Gang said that his company's partnership with Apple has produced "better-than-expected results."
China Unicom began selling the iPhone in 2009. The device got off to a slow start in its first year in China, bringing in just 5,000 new subscribers at launch, but it became a hit in 2010 with the release of the iPhone 4.
The carrier began selling the iPhone 4S in January, though the handset's launch was marred and delayed by a near-mob outside an Apple retail store in Beijing.
China Unicom's iPhone site
In recent months, China Unicom lost its exclusive hold on the iPhone in China. China Telecom, the third-largest carrier in the country, attracted 200,000 preorders in March when it also began selling the iPhone 4S.
China Mobile, the largest wireless operator in both China and the world, is rumored to be nearing an agreement with Apple and could begin offering the iPhone as early as later this year. Company chairman Xi Guohua said last month that the carrier is "actively talking to Apple" about a partnership.
With more than 600 million subscribers, China Mobile represents a massive sales opportunity for Apple. More than 15 million customers already use the iPhone unofficially on China Mobile's network.
For its part, Apple revealed in April during its most recent quarterly earnings conference call that iPhone sales were up five times that of the year ago quarter in Greater China, which includes the mainland, Hong Kong and Taiwan. Apple CEO Tim Cook called the company's performance in the region "mind-boggling."