Apple retail workers get significant pay bumps up to 25% of current wages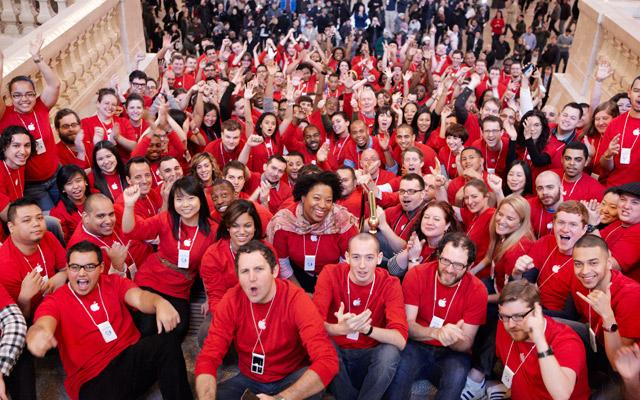 Rumblings and unsubstantiated reports point to sizable pay raises for Apple retail workers, possibly the result of an internal company review that found wages to be a common complaint among Apple Store employees.
A Wednesday report from Dow Jones claims that Apple Store workers from various locations across the U.S. received raises in face-to-face meetings with store managers last week with the pay bumps expected to be reflected in paychecks starting in July.
Official numbers have yet to be released, however new pay scales could in some cases reflect a 25 percent increase in compensation. While the move seems to be a drastic change, it should be noted that not all employes will receive pay bumps as the system is reportedly performance-based.
During a recent internal review staff complained that pay was a major concern, and among the most frustrated were higher-level workers like "Genius" support technicians and "Creative" educational teams. The current pay scale puts floor sales staff at $9 to $15 per hour while Geniuses make around $30 an hour. A source claims employees from at least one Apple Store were poached by a nearby Microsoft retail outlet that offered promotions and higher wages.
Multiple sources say the Apple raises are long overdue and point out that previous rates did not reflect Apple's position as a high-end retailer. A study released in April found that the iconic Apple Store locations see 17 times more sales than the average U.S. retail outlet and lead all national chains in sales per square foot. As of August 2011, Apple's brick-and-mortar stores were taking in $5,626 per square foot, well above second place Tiffany & Co.'s $3000 per square foot. The national average for shops in regional malls is $341 per square foot while the median for the best 20 retailers in the country tops out at $787 per square foot.
Apple Store staff at the company Grand Central Terminal location in New York. | Source: Apple
Apple's new retail chief John Browett, who took residence at the Cupertino, Calif. company two months ago after leaving his position as CEO of UK electronics chain Dixons Retail PLC, is thought to be behind the impressive wage increases. In a video to Apple retail employees in shortly after his hire, Browett promised to push up employee performance reviews from the original September schedule.
The Apple Store has become an increasingly vital part of the company's core business strategy and as of April revenue per location has grown to $12.2 million, a 22 percent increase year-over-year. Over 85 million visitors entered an official Apple outlet in the second quarter of 2012 which translates to an average of 18,000 potential customers per store each week.