Teardown of non-Retina MacBook Pro finds thicker RAM slots, hard drive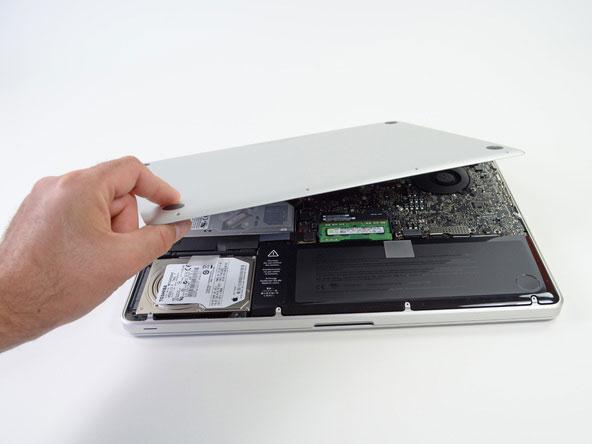 AppleInsider may earn an affiliate commission on purchases made through links on our site.
Apple's updated MacBook Pros featuring the same design as the last generation are thicker than the new Retina display model thanks to stacked RAM slots and a 2.5-inch hard disk drive.
iFixit took a peek inside the new 15-inch unibody MacBook Pro and found the individual RAM models are 3.15 millimeters thick, but the modules are stacked, leading to a total thickness of 9.15 millimeters. That's more than half the entire thickness of Apple's newly redesigned 18-millimeter thick Retina MacBook Pro.
Another component adding to bulk in the legacy design of the MacBook Pro is its hard disk drive, which is a standard 2.5-inch serial ATA drive. It's 9.45 millimeters thick, compared to just 3.16 millimeters for the flash memory in the Retina display MacBook Pro.
Obviously another key part to the bulk of the legacy MacBook Pro design is its inclusion of an optical disk drive. iFixit noted that a "significant portion" of the weight cut from the new Retina display MacBook Pro came from ditching the disc drive.
The solutions provider said it appreciates the inclusion of the optical drive in the MacBook Pro, because it can be removed to add in a second hard drive. In fact, it gave the non-Retina MacBook Pro a repairability score of 7 out of 10, compared to the 1 out of 10 given to the Retina display MacBook Pro.
Another advantage for the legacy design is Apple's use of regular screws. The new Retina display MacBook Pro uses a proprietary pentalobe screw type that prevents users from cracking it open.
The legacy MacBook Pro also features the same capacity as last year's model, with 77.5 Wh at 10.95 V. It's also the same size, and is 13.8 millimeters in thickness.
In comparison, the battery in the new Retina display MacBook Pro varies in thickness from 5.25 millimeters to 8.60 millimeters, and it has a plastic frame around some of the cells.
iFixit previously took apart the new MacBook Pro to discover it has soldered RAM and a proprietary solid-state drive, and also took a closer look at its high-resolution Retina display. The repair company also disassembled the new MacBook Air and found a revised flash memory connector, but the remaining design was largely the same as its predecessors.