Apple issues iOS 6 beta 2 to developers with keyboard fixes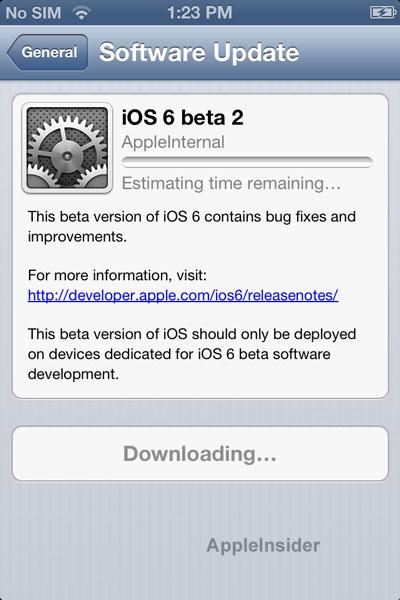 Apple on Monday issued its second beta of iOS 6 for developer testing, including a pair of fixes related to touchscreen keyboard performance.
Developers began receiving word that an update was available from "AppleInternal" on Monday afternoon. The "operating system 6.0" update is a 322-megabyte download for iPhone 4S users.
People familiar with iOS 6 beta 2 said it is identified as build "10A5338d." When updating to the new software version in the Settings application, the icon with gears is animated and actually moves.
The release notes that accompany the update reportedly indicate that Apple fixed an issue where key clicking sounds could be skipped during fast typing. Apple also indicated it addressed an issue in which the keyboard would be wrongly positioned when switching from landscape to portrait orientation.
Apple also reportedly fixed an issue where the iOS SpringBoard may crash during a phone call if the screen would fade to black when using a speakerphone or headphones. It also addressed a crash that would occur if a new iCloud account was created during initial setup of the iOS device.
The latest iOS 6 beta also adds the podcasts section back into the iTunes application. That was missing from the first beta, and there have been rumors that Apple plans to introduce a standalone podcast application when iOS 6 officially launches this fall.
iOS 6 beta 2 is compatible with the third-generation iPad, iPad 2, iPhone 4S, iPhone 4, iPhone 3GS, and fourth-generation iPod touch.
Also released on Monday were Xcode 4.5 Developer Preview 2, as well as a second beta of the next software update for the Apple TV set-top box.
iOS 6 was formally announced earlier this month at Apple's annual Worldwide Developers Conference. Developers were also provided with the first beta after its unveiling, allowing them to test their applications before the formal public launch this fall.