Apple patent batch includes inductive charging, antenna-equipped dock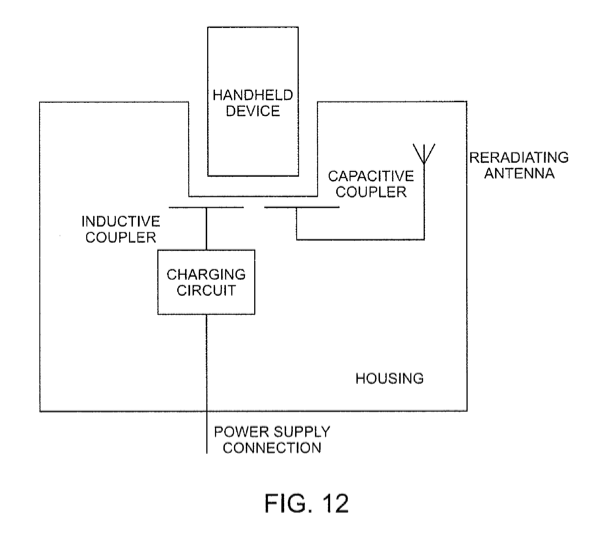 A group of 27 patents awarded to Apple on Tuesday includes a patent for a docking station that could offer inductive charging and a "reradiating antenna" that could improve the cellular signal of a device while docked.
The U.S. Patent and Trademark Office published this week a list of 28 patents that it had granted to Apple. Included among the list were filings for a light sensitive display, multi-touch gestures for scrolling lists and resizing content and a process for unlocking a device via gestures.
Perhaps the most interesting patent of the batch was Apple's "Antenna insert" application, as first noted by Patently Apple. The invention details a docking station that could have an antenna for improving wireless signal integrity, inductive charging circuits and even wireless or optical data links.
The background of the application details a problem that has arisen with docks for wireless handheld devices. In order to reduce user exposure to radiation, many companies design their cellular phones with the antennas as far from the user's head as possible, often at the base of the handset. However, such a design sometimes results in interference issues when the device is docked.
Apple's invention would eliminate the issue of interference by incorporating antennas within the docking station that would enhance the wireless performance of the docked handset. Adapters could help ensure that the devices "maintain proper antenna operation" even when attached to accessories, and they could also "enhance the integrity of wireless communication with a handheld device," possibly without the need for a "physical connector."
According to the application, a "reradiating antenna" describes one or more antennas "that both receive and transmit RF signals, such as once and data." Docking station antennas could actually be advantageous to wireless connectivity as they could be tuned to different frequency bands, the inventors noted.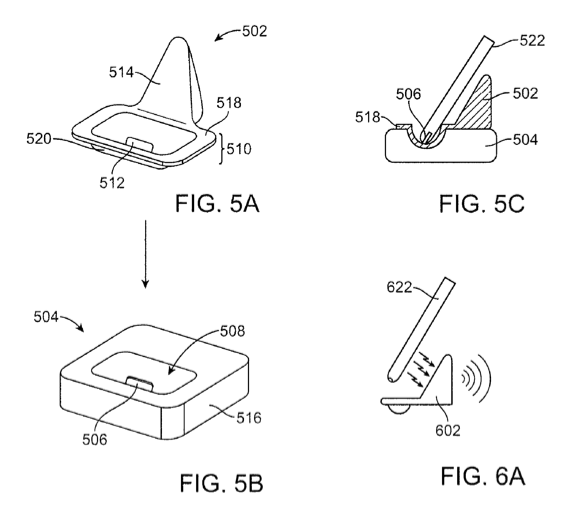 The patent went on to explain charging situations for the dock that would include "inductive coupling" for the circuit. Care would be taken to guarantee the design avoids circuit interactions between the antenna and the charging components.
Victor Tiscareno, John Tang and Stephen Zadesky are listed as the inventors of the patent. Apple filed for the intellectual property on Jan. 7, 2008.
Apple has shown interest in inductive charging in the past. Earlier patent applications depict docking stations with inductance-based systems that could be used in both portrait and landscape mode. Another invention by Apple would make use of the audio cable from headphones as an inductive charging coil.