Wells Fargo resumes coverage of Apple ahead of 'biggest product cycle' ever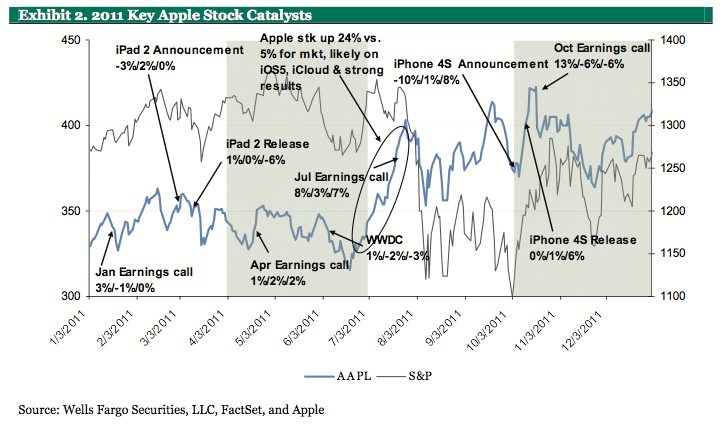 Wells Fargo Securities announced on Wednesday that it will resume coverage of Apple as it expects the 2012 iPhone to drive the "largest product cycle in consumer electronics' history" when it arrives later this year.
Analyst Maynard Um reinitiated coverage in a note sent to AppleInsider, rating Apple as Outperform with a valuation range of $640-660. The investment bank believes shares of Apple are currently undervalued and will see growth after its expected "biggest product launch" in both company and industry history with the next-generation iPhone, which is expected to arrive in October.
"We believe Apple's combination of brand, innovation, and ecosystem are unmatched and see the company as well-positioned to continue to take value share in its core smartphone, tablet, and PC markets," the analyst wrote.
Wells Fargo research has shown that Apple stock jumps 23 percent on average from the date that a new iPhone is launched to the day after earnings results for the handset's first quarter are announced. Um expects Apple's next iPhone to include a "complete form factor redesign" and "true 4G" cellular technology. He believes the handset's launch will be boosted by an anticipated more-rapid carrier rollout than previous years and buzz from the device possibly being one of the last products that late CEO Steve Jobs had a hand in designing.
Apple's iPhone line accounted for 43 percent of its revenue and a whopping 56 percent of its gross profit in 2011, according to Wells Fargo's estimates. The firm believes Apple is on track to continue a "healthy pace" of growth in iPhone unit shipments.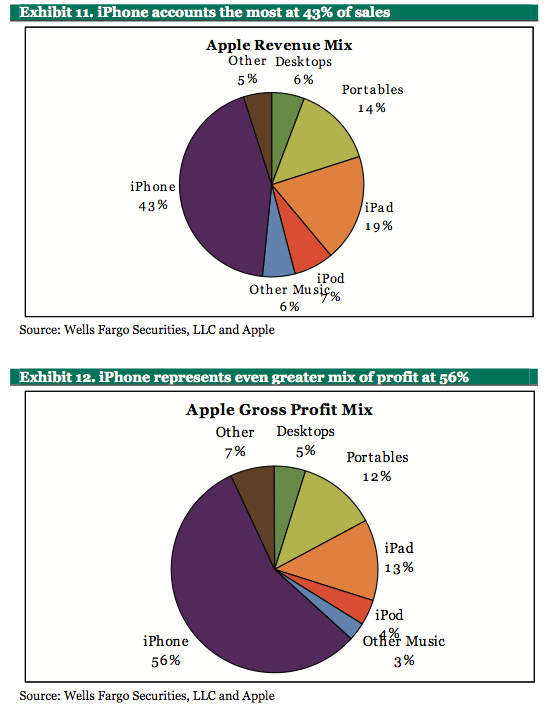 In addition to the iPhone, Um expects Apple's other upcoming products to contribute to growth. He believes a so-called "iPad mini" is on its way, as well as new iMac, Mac Pro and iPod models. A much-rumored "iTV" Apple television set is not expected by the firm until calendar 2013 at the earliest.
An analysis of the TV market by the firm came to the conclusion that Apple could take as much as $50 billion in market capitalization from other television makers if it released its own model. Since the arrival of the iPhone five years ago, Apple has taken large chunks out of mobile phone vendors' market caps, especially those of Research in Motion and Nokia.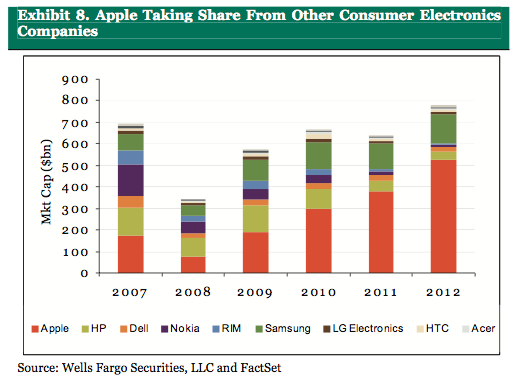 Apple is expected to continue to grow market share in the PC market as a result of an increase in "overall consumer adoption" of the company's products, spurred in part by an iPhone and iPad halo.
The analyst also pointed out that Apple has a "cushion" for its gross margins in the form of its product warranty costs. The iPhone maker has apparently been over-accruing product warranty costs as compared to its actual expenditures. If the company experienced downward pressure on its gross margins, it could reduce the amount it accrues and thereby raise its net revenue.
Though Wells Fargo sees Apple in a very strong position, it did mention several potential risks that the company faces. For instance, drop in the average selling price (ASP) of the iPhone due to decreased demand or a reduction in carrier subsidies, could have a drastic impact on Apple's revenue and margins. Apple's growth could also slow because it faces tougher comparisons as a result of the impressive growth it posted in previous quarters.
Other risks highlighted by Um included: evolutionary rather than revolutionary innovation, Apple's numerous legal disputes, the possibility of higher operating expenses, potential for supply constraints and the threat of broader macro-economic slowdown.