Apple's next iPod nano may resemble tiny iPhone, feature dedicated iTunes service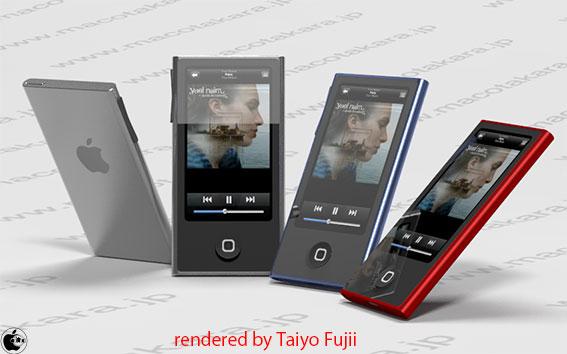 Apple may once again redesign its iPod nano this fall with a rectangular screen and a home button, much like an iPhone, along with a dedicated built-in iTunes service.
The new iPod nano is rumored to arrive this fall alongside an overhaul of Apple's iTunes music and media service, according to Japanese blog Macotakara. Citing a "reliable Chinese source," a report on Tuesday indicated the next iPod nano is "not square shaped" like the current model.
Instead, the new iPod nano is alleged to have a rectangular display, presumably touchscreen, that would be like a smaller version of the 3.5-inch screen found on the iPhone and iPod touch. Like the larger iOS-based devices, the new iPod nano is also said to have a home button.
The details appear to come from a source who claims to have seen a leaked case revealing the new design. The person said that the case for the new iPod nano had a hole on the front that would presumably be used for a dedicated home button.
The new iPod nano is also rumored to feature a "dedicated new iTunes service," that person added. An anticipated "autumn update" to iTunes would bring about new features, and ditch Ping, the social networking service Apple launched in 2010 that has since failed to gain any traction.
Apple redesigned the iPod nano in 2010 with a new square design controlled through a small multi-touch display. That design features a clip on the back making it deal for using during physical activity, but the updated iPod nano is rumored to ditch the clip.
The leaked casing was said to be smaller than the fifth-generation iPod nano, and thinner than the current-generation model, thanks largely to the absence of the rear clip.

A render included with the story shows a device that looks like a mix between an iPhone or iPod touch with Apple's fifth-generation iPod nano, which also featured a rectangular shape but was controlled by a click-wheel.
While the current iPod nano mimics Apple's iOS mobile operating system found on the iPhone and iPad, it is not the same software, and cannot run applications that are available on the App Store. Tuesday's report did not indicate whether an iPod nano with a home button would actually run iOS, or continue to be its own separate, app-less platform.