Purported 13" Retina MacBook Pro benchmarks appear, launch rumored before Oct.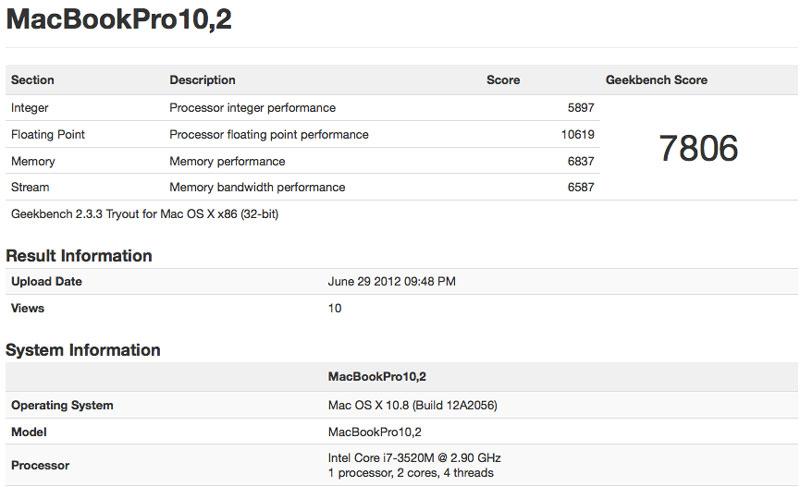 As benchmarks for an unreleased MacBook Pro running a previously unknown build of Mountain Lion have appeared, a new rumor suggests Apple could launch its 13-inch Retina display MacBook Pro before October of this year.
Test results for an unreleased "MacBookPro10,2" model first appeared in Geekbench logs in late June. The authenticity of the listing, which was brought to AppleInsider's attention on Tuesday, cannot be verified.
It shows that a MacBook Pro running OS X 10.8 Build 12A2056 uploaded Geekbench data on June 29. The machine was running an Intel Core i7-3520M Ivy Bridge processor clocked at 2.9 gigahertz.
The sole listing for the machine gives it a Geekbench score of 7806. That's below a score of 10999 earned by the new 15-inch Retina display MacBook Pro with an Intel Core i7-3615QM processor clocked at 2.3 gigahertz, but is higher than scores of around 5000 earned by early 2011 13-inch MacBook Pros.
The Geekbench listing also shows the unreleased MacBook Pro with an Apple-manufactured motherboard identified as "Mac-AFD8A9D944EA4843," while the BIOS is listed as "MBP102.88Z.00F2.B00.1206111035." The test machine had 4 gigabytes of 1600 megahertz DDR3 RAM.
Evidence of a new 13-inch MacBook Pro comes as a report from DigiTimes on Tuesday claimed that upstream component suppliers are preparing to provide parts to Apple for a 13-inch MacBook Pro with Retina display in the third quarter of 2012. Citing anonymous sources in the supply chain, the report said it is believed the new MacBook Pro could launch before October. Earlier reports had suggested the new 13-inch Retina MacBook Pro will be introduced by early October.
The Geekbench sighting is not the first instance of a "MacBookPro10,2" in the wild. Last month, an online battery test also potentially identified a 13-inch version of a MacBook Pro with Retina display.
The data discovered on Mini Battery Logger's website also showed a model with the "10,2" identifier, which is different from the "MacBookPro9,2" label Apple gave to its recently updated 13-inch MacBook Pro, which does not feature a Retina display. Currently, the Retina display is only available with a 15-inch MacBook Pro identified as "MacBookPro10,1," while the legacy 15-inch model is "MacBookPro9,1."