Apple defends decision to withdraw from EPEAT certification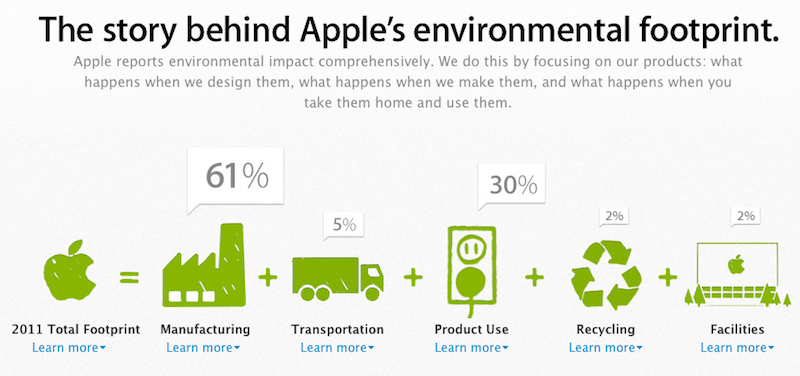 Apple has spoken out in defense of its decision to remove its products from the EPEAT environmental rating program by noting that it takes a "comprehensive approach" to making environmentally-responsible products.
Kristin Huguet, a spokesperson for the Cupertino, Calif., company, provided a statement to Jim Dalrymple of The Loop on Tuesday.
"Apple takes a comprehensive approach to measuring our environmental impact and all of our products meet the strictest energy efficiency standards backed by the US government, Energy Star 5.2," she said. "We also lead the industry by reporting each product's greenhouse gas emissions on our website, and Apple products are superior in other important environmental areas not measured by EPEAT, such as removal of toxic materials."
Late last week, Robert Frisbee, the newly-appointed CEO of EPEAT, which stands for Electronic Product Environmental Assessment Tool, revealed that Apple had asked the group to remove 39 of its products, including desktops, laptops and monitors, from its list of certified devices. The Mac maker reportedly told the executive that its "design direction" had diverged from EPEAT's requirements.
EPEAT's governing group, the Green Electronics Council, appointed Frisbee to be the organization's first-ever CEO in March. At the time, EPEAT board member Christine Ervin admitted that EPEAT certification had become "a little long in the tooth" and Frisbee would be working to update them.
Apple helped develop the EPEAT standard in its early days, but lately it has moved away from the group's requirements that products be easy to disassemble in the interest of recyclability. For instance, its new MacBook Pro with Retina Display was given a repairability score of 1 out of 10 by iFixit last month.
Tuesday's statement from Apple suggests Apple felt EPEAT is too narrow in its scope because it doesn't track removal of toxic materials or energy efficiency. Dalrymple also noted in his report that EPEAT also doesn't certify smartphones or tablets, two of Apple's largest revenue streams.
Though a move away from EPEAT is unlikely to have a significant effect on Apple's sales to consumers, it could impact sales of Macs to government agencies. Federal agency purchases are required to be 95 percent EPEAT-certified. The city of San Francisco said earlier on Tuesday that it is notifying city agencies that Macs will not qualify for purchase with city funds.
Late Apple CEO Steve Jobs forged a new path for Apple in 2007 by unveiling a new environmental policy in an open letter to customers and shareholders. Jobs said that he had investigated Apple's policies and learned that the company was an industry leader in some of them, in spite of criticism from organizations like Greenpeace. The letter went on to outline initiatives to remove toxic chemicals in and dramatically increase recycling of its products.
Apple has continued to be open about its efforts to make greener products. It set up an Environment section of its website with details on the company's total carbon footprint and efforts to lessen the environmental impact of its products.