Apple hires high-level AMD engineer as part of effort to build new, energy-sipping mobile chips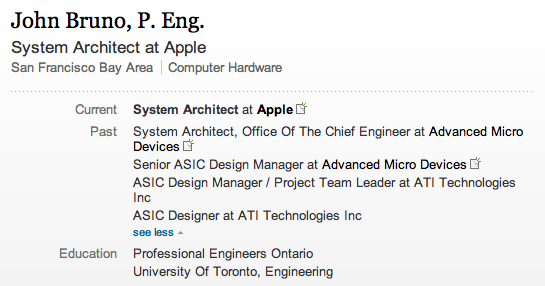 In an update to his LinkedIn profile former AMD chip architect John Bruno, known for his contribution to the chip maker's Trinity Accelerated Processing Unit (APU), now lists himself as a "System Architect at Apple."
While Bruno's new position has not been officially announced, the profile change first spotted by SemiAccurate on Wednesday is thought to reflect Apple's ongoing efforts to design high-performance, energy-sipping mobile processors for use in its iDevice line of products.
Bruno's management of AMD's second-generation APU project, dubbed Trinity, is well known and it is speculated that he may take a similar role at Apple. As a side note, Apple was rumored to be using the original AMD Fusion APU in its Apple TV in 2010, but the final product ended leveraged the proprietary ARM-based A4 processor.
Originally an employee of ATI, Bruno joined AMD in 2006 when the company acquired the graphics card manufacturer in 2006. He was ultimately axed amid wide-ranging job cuts last year that saw the departure of other high-level SoC engineers. Since being let go, Bruno has been "off the radar" and wasn't reported to be attached to any major tech companies until Wednesday's report.
Apple has long been rumored to be looking into moving its entire portable product line, including laptops, to the ARM platform but Apple leadership remains mum on the prospect. The tech giant was reported to be testing an ARM-based MacBook Air model in 2011, though the machine has yet to materialize. Apple CEO Tim Cook mentioned in February that the need for ARM-based thin-and-lights was not part of the company's "post-PC" strategy and said the niche would soon be filled by the iPad.