Apple's third-gen iPad makes orderly Chinese debut thanks to new reservation system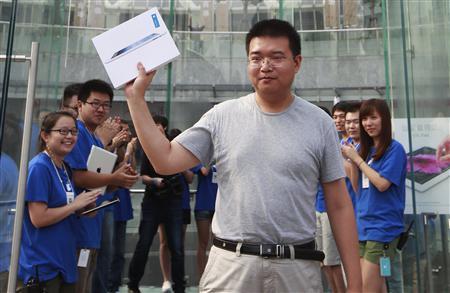 AppleInsider may earn an affiliate commission on purchases made through links on our site.
Apple launched its Retina display-sporting iPad in China on Friday to orderly lines, a scene contrasting the company's most recent product launches in the country which were marred with unruly crowds and scalpers.
A pre-sale reservation system instituted by Chinese Apple Stores appeared to be effective as the third-generation iPad launch went off without a hitch, perhaps uncharacteristically so for such a substantial release.
The scene came as a surprise to Apple customers, reports Reuters, as many have become used to long lines and overnight waits to purchase the new products. Scalpers were also an issue as demand sometimes drastically outweighed supply. Apple in January was forced to halt sales of the popular iPhone 4S on launch day as a large group of customers became unruly upon hearing that the handset was sold out.
"I'm very surprised that there is no line," said Sun Xufei, an IT worker who was first in line at the Shanghai Lujiazui Apple Store. "I thought there was going be a long line so I came over a bit earlier to pick it up." The line Xufei was standing in was reportedly only about 20 people deep.

Apple's third-gen iPad debuts in China. | Source: Reuters
Apple adopted a pre-order system in which customers are prompted to reserve an iPad through the Apple online store between 9 a.m. and 12 p.m. after which they are assigned a time to pick up their device the next day. This allows the company to somewhat control the flow of foot traffic in and around the six official brick-and-mortar Apple Stores on the Chinese mainland. Hong Kong also has one Apple Store to serve the region's over seven million residents which accompanies a network of authorized resellers dotted throughout the country.
"This method is much better because everyone's time is precious," said a person at the launch event who gave his name as Zhong.