Inside OS X 10.8 Mountain Lion GM: Calendar & Reminders offer smart search, location-based alerts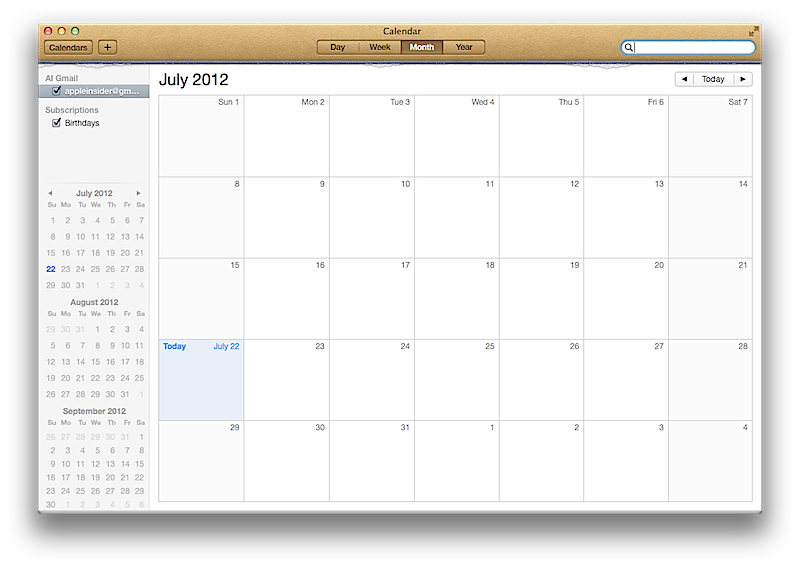 AppleInsider is supported by its audience and may earn commission as an Amazon Associate and affiliate partner on qualifying purchases. These affiliate partnerships do not influence our editorial content.
In OS X Mountain Lion, Apple has replaced iCal with two separate Calendar and Reminders apps, harmonizing with iOS and improving the overall interface while making Reminders not just calendar event with alarms, but also location-based notifications.
The new Calendar app offers some streamlined interface tweaks, such as a sidebar Calendar listing that appears when you click on the Calendar button. Previously, this button created a popup menu. The new sidebar not only shows your configured calendars across all your accounts and calendar subscriptions, but also shows/hides a series of monthly calendars (below).
A second significant feature is smart search. Enter the beginnings of a search query, and Calendar now offers possible results, including Events with matching names, People identified with a particular event, or Locations. These search "tokens" work like searches in the Finder or Mail, so you can create specific searches that include multiple search criteria.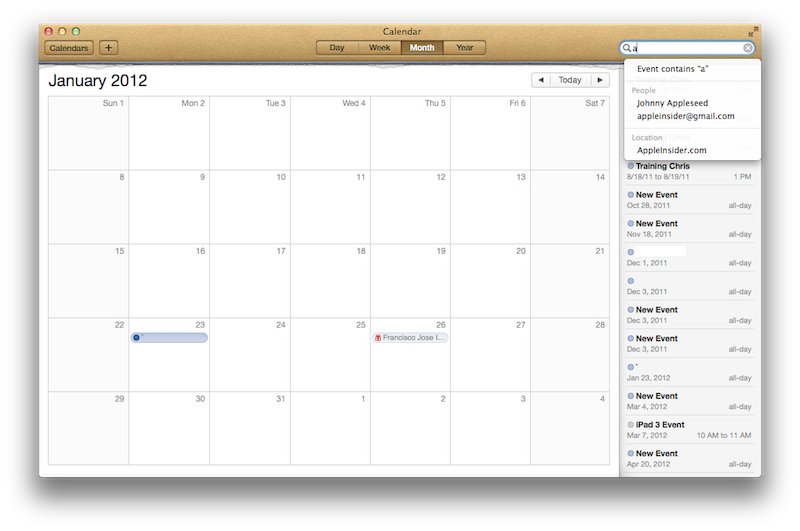 A third tweak is calendar picker popups, which let you select a date from a calendar, rather than just by adjusting the numbers of the month and day. This feature is widely used on the web when selecting dates.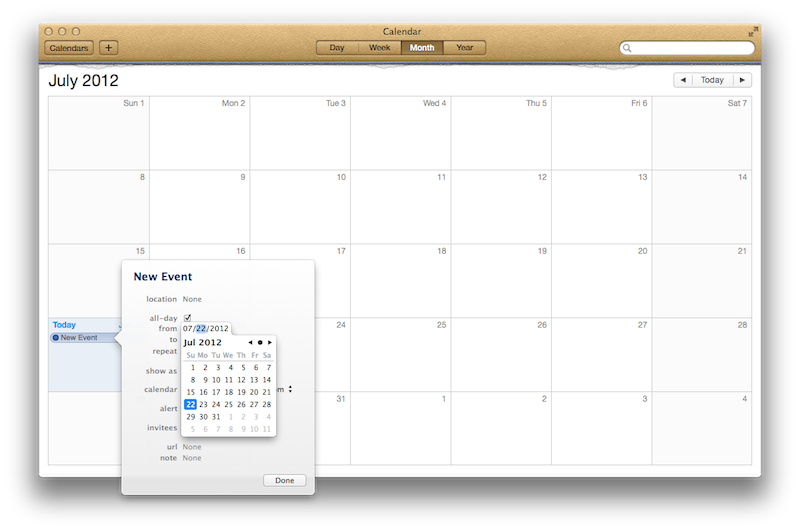 Calendar also sports new Notification Center integration, so rather than popping up its own reminders, it forwards them though the new central repository for such events in Mountain Lion. This enables you to set your preference for notifications in one place (below).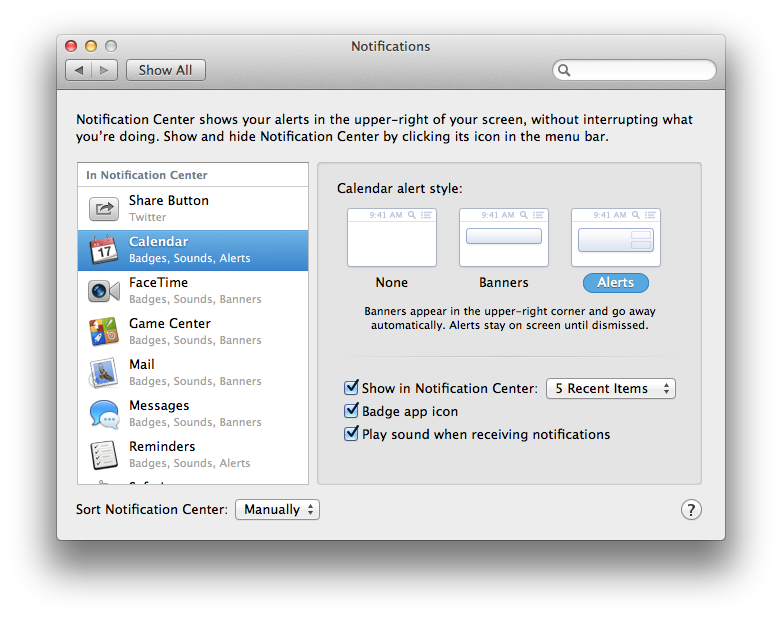 While there isn't yet any direct support for showing Facebook events in Calendar, if you turn on the "Birthdays" calendar and sync Facebook with Contacts your calendar can be populated with the birthdays of everyone in your social circle. Additionally, you can opt to have alerts fire for birthdays (below), with however much advance warning you'd like (one week before, one or two days before, or early that day).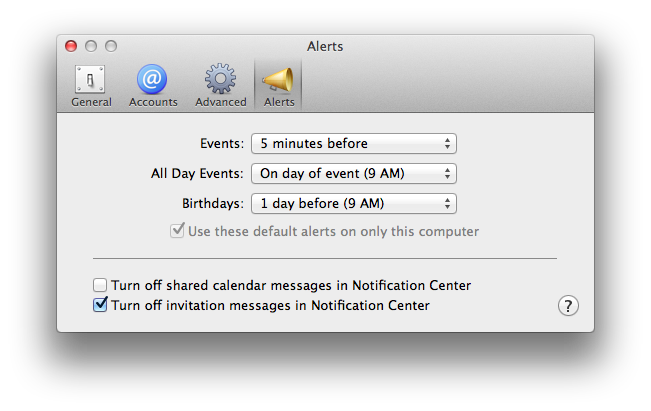 On page 2 of 2: iOS-style Reminders
Mountain Lion is spinning off Reminders as its own app, just as iOS did last year. One advantage of this is that when you have Siri create a reminder for you from your iPhone 4S, it will now show up in Reminders just like on your other iOS devices, rather than being synced into a hidden reminders sidebar of the old iCal. Apple's upcoming Reminders web app will perpetuate this consistent user interface to the iCloud webpage as well.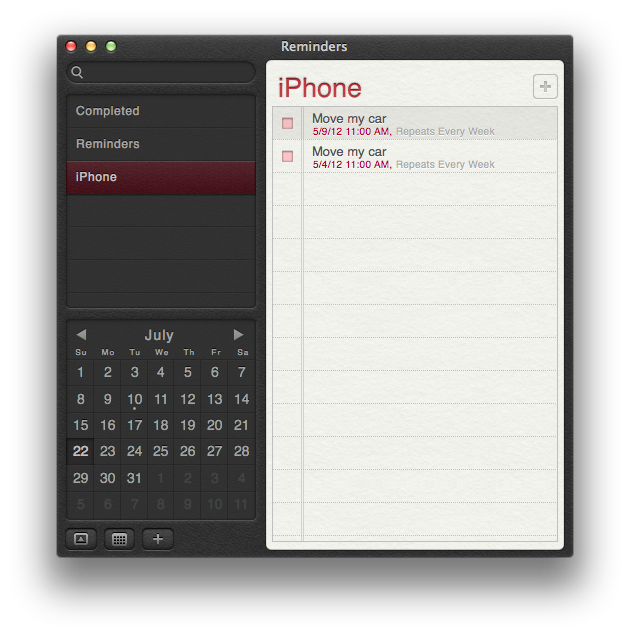 Additionally, having a separate Reminders app as disconnects the concept of a reminder with a calendar date: you can now have reminders that fire purely when you enter or leave a location. "Geofencing," which can trigger a reminder event when you enter or leave a specific location, requires a WiFi network connection, as the system obviously has to know where you are at for this to work.
Before Reminders turns on location tracking on your Mac, it requests you to approve this under the Privacy pane of System Preferences. You must supply administrator credentials to unlock the ability to turn enable Location Services, and to allow specific apps to tap into the to feature.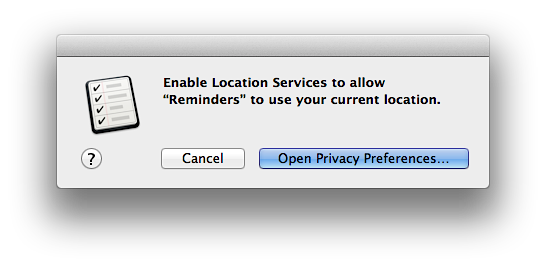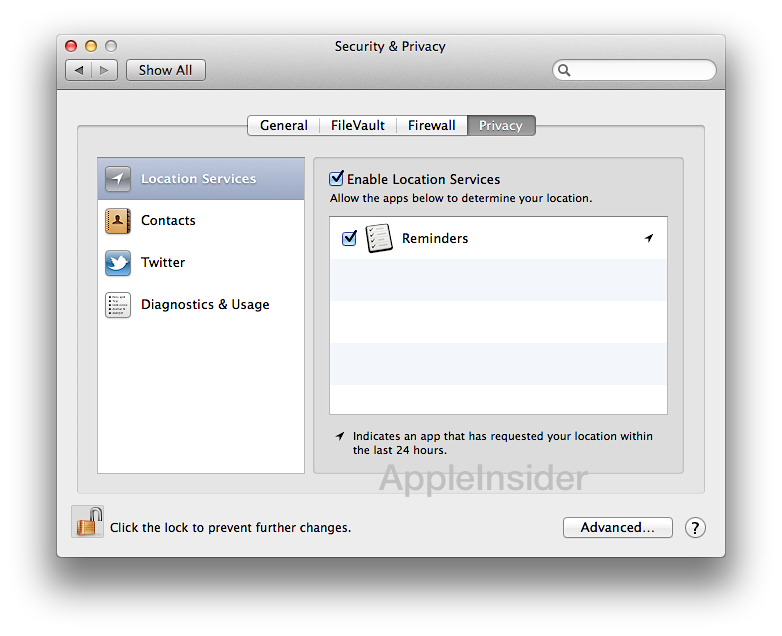 Once approved, you can add "remind me: at a location" to a new entry in Reminders. As you type an address or contact name, the system offers suggestions of locations in your contacts or completion suggestions for the address you are typing. You can select to be reminded while departing or arriving at the listed location.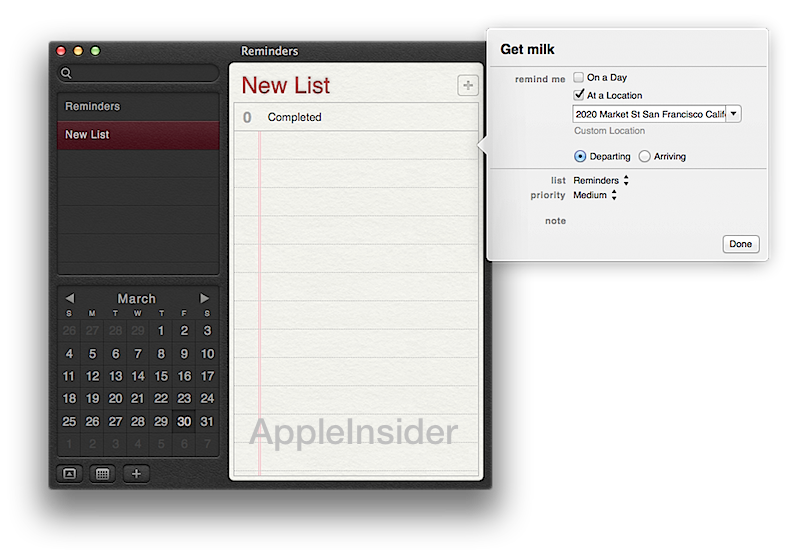 You can also combine location and time alerts, so you will be given a reminder either when you cross the geofence or at a specific time.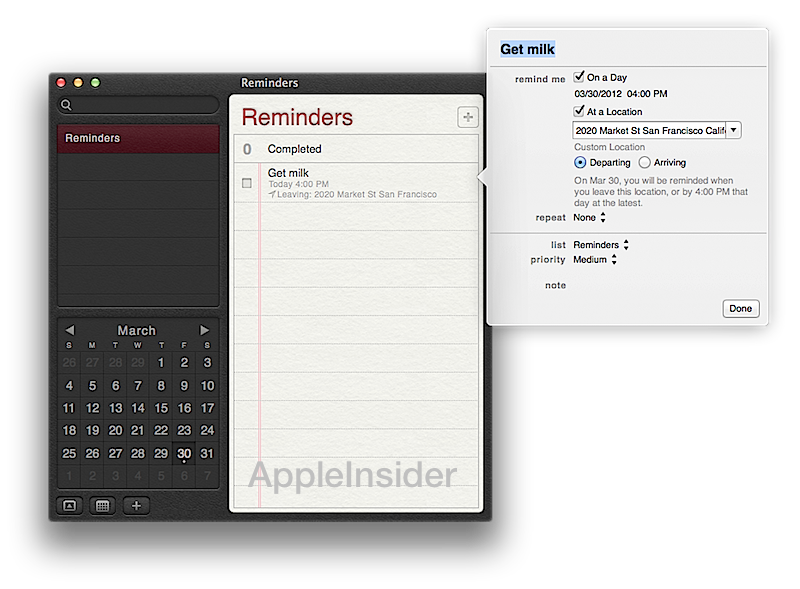 In addition to location-based reminders, the new spinoff of the Reminders app also gives you one place for checklists of events, whether they are connected to a specific due date, ongoing tasks, or have already been completed. In Reminders, you can click on a specific day to see just the reminders for that day, or you can view events grouped by account, by an arbitrary listing name, or see the list of reminders you've already completed.
Reminders doesn't yet support complex task management, such as plotting out who in a team is responsible for completing a particular task, or relationships between tasks that are dependent upon the completion of other events. Apple's system level integration of Calendar and Reminders does allow third parties to tap into calendar data to provide more sophisticated task management alternatives, however.