Apple iOS retains commanding lead in enterprise through Q2, report says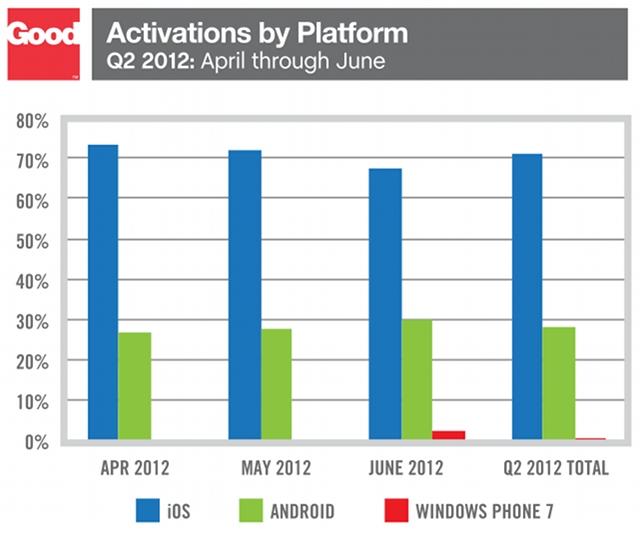 AppleInsider is supported by its audience and may earn commission as an Amazon Associate and affiliate partner on qualifying purchases. These affiliate partnerships do not influence our editorial content.
A study released on Wednesday tallied up mobile device activations among enterprise users and found Apple's iOS maintained a dominating presence in the sector during the second quarter on strong iPhone 4S adoption.
In its report, mobile enterprise services vendor Good Technolgy crunched data from thousands of corporate and government entities that had at least five activated devices to determine trends in the mobile OS space. It should be noted that the company only supports iOS, Android and Windows Phone as BlackBerry uses a proprietary enterprise server and as such is not present in the report.
According to the compiled data, Apple took a 70.8 percent share of all activations during the second quarter of 2012, down from 79.9 percent in quarter one. The findings support comments made by Apple CFO Peter Oppenheimer during the company's third fiscal quarter earnings conference call on Tuesday.
"iPad continues its rapid adoption within the enterprise," Oppenheimer said. "We estimate that the number of iPads in the Fortune 500 is more than tripled in the past year."
Apple's iOS remained dominant in the sector over quarter two and was trailed by Android and Windows Phone activations which accounted for 37 percent and 1.2 percent of the market, respectively. Apple products accounted for six of the "top ten" most-activated devices for the quarter ending in June.
Google's Android rebounded in the second quarter to hit nearly 30 percent of total activations. The bump in share represents a 10 percent growth quarter-to-quarter after the platform fell to only 20 percent at the end of May. Good attributes the rise to popular handsets made by Samsung like the Galaxy S II and a market over-saturation of iOS devices.
Digging deeper, Good found Apple's iPhone 4S and third-generation iPad to be the most-popular devices in the April to June period and accounted for a combined 44.1 percent of all mobile activations. The iPhone 4S took 30.8 percent of the market, driving nearly twice as many activations as any other smartphone, while the Retina display iPad garnered a 13.3 percent share. Apple's last-generation iPhone 4 came in third and garnered 12 percent of all activations. The last-generation iPad 2 captured fourth place after Apple carried the tablet over into the current product cycle as a more affordable option to the New iPad.
Taking the number five spot was Samsung's Galaxy S II which managed 4.6 percent of the market as the most-activated Android device for the quarter. Motorola's Droid Razr followed with 3.2 percent and led both the original iPad and entry-level iPhone 3GS which took 2.3 and 1.8 percent shares, respectively. Samsung's Galaxy Nexus and Galaxy Note rounded out the top ten for the second quarter.
Apple's iPad crushed the tablet competition, though its share dropped slightly from 97.3 percent in the first quarter to end June at slightly less-dominating 94.5 percent of activations. The iPad's performance overshadows Android's 5.5 percent of activations but Good notes the platform did see a 2.7 percent increase mostly attributed to the Galaxy Note.
As part of the study, Good tracked activations by industry and found the financial services sector continued to lead with a 37.8 percent share, up from 36.1 percent three months ago. The company believes the industry's high adoption rate is a result of a bring-your-own-device (BYOD) model. Business and professional services saw a significant 17 percent drop compared to the first quarter possibly due to early adoption and rollout of mobility programs by companies staffed in part by traveling professionals.